Gliss line, P&M rods, Cinnetic Rods, Tackle House Lures, Flambeau boxes - the best of quality gear for 2015...


Pezon et Michel Gunki Kairo Range
Pezon et Michel are part of the Illex group. That is enough to say that there is a hertiage of decent rod building and a history of decent tackle. The Kairo range is an interesting range of rods especially suited to the boat angler.
We have said before that casting ratings can be both confusing and frustrating. It is always better to "feel" a rod before you buy in order to get the tool that suits your purpose.
I have a seasons experience of the Kairo S220h – 10-50. I use the rod for deeper water work offshore using bigger jig heads up to 150g. This rod suits the bill perfectly for this fishing.
The fittings are Fuji and the EVA handle is comfortable.
The prices range from €50 – €120
Check these out from Dennett dealers!
Pezon et Michel – Oceaner SW FV Reel
Are you one for buying well priced reels and are happy if you get a season from them? In these days of far eastern manufacturer it can be difficult to gauge the quality of reels. The Oceaner range is worth checking out if this is the case!
The Ocearer is the entry-level SWM (Slat Water Mission) offering from P&M
There is much talk of six bearings and cross spiral line lay.
We should have some of these at the tackle show in Dublin.
Other than that check out at you Dennett Dealer.
These should be somewhere between €60 – €80 depending on size.
GLISS –  Mainline
Well here we go again! Gliss promises to be a revolutionary line for all anglers. Technically it is not a mono and not a braid. It is made from HMPE (High modulus Poly-Ethylene) –  For you and I this is Dyneema. Braid is made from Dyneema.
So this "monotex" line is a single filament of dyneema. It behaves like a mono casting and has the no-stretch qualities of braid.
We will be getting our first samples in the coming weeks and will report back further!
Pricing should be less than €18.00 per 150m
 See Dennett Dealers around the country and online.
Tackle House Feed Shallow 155mm 28G
I have used feed shallows on many occasions – What a Lure! The only thing that vexes me is it is quite a light lure. You now have further choices: a 155mm 28g and a "plus version of the 128mm lure.
The 155mm should be the perfect tool for cutting through in breezy conditions.
These are not cheap lures at btween €20 – €25
Check Dennett dealers,
Resistance Vulture 120mm 20g
Every now and then a lure comes along and is a game changer – Could the resistance Vulture be that lure this year?The resistance name is part of the Tackle House stable.
This pencil lure is interesting due to the location of the bib – it is mounted center ways on the body. The makers say that this gives the lure an irresistible motion even with slow retrieves.
Again Dennett Dealers will have stock or can order.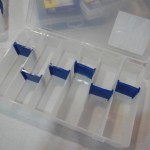 Flambeau – Storage solutions
it is simple really! You can buy containers in just about every bargain basement shop in the land. like me you no doubt learn that quality comes with a price. In fact, the old adage that "quality will be remembered long after the price is forgotten" really holds true for Flambeau products. They are simply built to last in the USA with very innovative features.
 The range is immense so it would be best to check out your local dealer and also check out the range on line to see what suits you. I must say the T5p Multiloader really caught my attention for the boat!
The innovations are many –  there are infinitely adjustable lure boxes –  a very simple but superb system that allows you to place dividers anywhere along the box.
The Waterproof Tuff Tainers are a work of art. Never again will you suffer from the box popping open when it falls to the ground.
Many of Flambeau dividers are impregnated by ZERust to prevent rusting hooks and clips. You can also buy Zerust tabs for use with other boxes in the range.
http://www.flambeauoutdoors.com/en/fishing
Cinnetic Rods & Reels
The Cinnetic range of rods & reels is new to Ireland. The range is distributed by TronixPro.
One particular rod caught my attention at a recent trade show  –  The Crazy Kayak – is a 2m light boat rod rated 5-25lb. A superbly finished rod that would grace any small boat! It have a first for me in that it has a built in ring on the butt for attaching a lanyard. A perfect idea. This rod and the others of the Cinnetic range are worth a look.  Tronixpro are displaying at the Dublin Angling show.
The range covers the full range of rods from beach casting to Lrf.
 http://cinnetic-fishing.com/descargas/Cinnetic_2015_en.pdf