It's peak fishing time! Jim Clohessy looks to six of our favourite species and the easiest way to success in catching them...

There are more small boats fishing than there ever were. This year more anglers are going to discover the thrills and the joys of skippering their own small boat. Many will also discover the frustration that can go hand in hand with dinghy angling – trying to seek out decent fishing in poor conditions at times.
How do you get a head start and get the most from your fishing? With a bit of preparation you can go beyond the mackerel and lucky fish and target specific species that will increase your catch rates and get you thinking of an ever more extensive species list. Firstly, you must get out there and get catching. I have picked some of the most popular and most abundant fish around the south coast. These species do not require specialist tactics or baits but can be enjoyed by everybody. We will look at what we consider the most effective tactics for each and hopefully you can get yourself into the species and enjoy the craic.
Pollack
Without doubt pollack are our most abundant species in inshore waters. In fact, most aspiring skippers will have little trouble knocking out a few pollack on long drifts over rocky ground. But to get consistent quality action you really do have to do your homework. Pollack like to cruise around reefs. A look at your charts will show you the higher peaks in your locality. Remember, there are also plenty of reefs that are not charted at all, so it is important to speak with other anglers and commercial fishermen in order to seek out new ground. While you will catch plenty pollack on feathers and Hokkais baited with strips of mackerel, the way towards the bigger fish is with lures. Shads, jelly worms and jigs will account for bigger fish but it will also be more fun and even more sporting – one bait, one fish. Using light gear is great fun, so dig out a light spinning outfit and attach a six-inch shad and jig headand hold on tight!
A specimen pollack is 12lb, not an easy fish to capture but in many areas, Kerry especially, double figure fish are common. The areas around Brandon, Ballinskelligs and outer Dingle Bay are fairly stuffed with pollack to double figures. When fishing with lures a flying collar rig or a jighead is your best bet. Thread jelly worms on over an Aberdeen pattern hook of at least 3/0. I wouldn't be too concerned with fluorocarbon leaders for pollack, good quality mono will suit perfectly. A trace length of about four- six feet for worms and around four feet for shads will do the business. Take your time when dropping your lure to the bottom to avoid tangles and vary your retrieve on the way back up. When you feel a pluck do not stop winding, the fish will hook itself!
In deeper water, take your time getting the fish to the boat especially if you intend to release the fish. If you are into lure fishing the latest rods will get the most from pollack. A seven foot lure rod combined with a jighead just heavy enough to get you to the bottom will bring a smile to your face like no other.
Wrasse
You can and will catch ballans while drifting across reefs, especially if the drift is slow, but to really target these hard fighting and beautiful fish you will have to get down and dirty! You will have more success fishing at anchor. You will get plenty ballans offshore, but some of the greatest sport will be had tight to the rocky coastline. The ground will generally be unforgiving, so you are better off tying up some traces yourself. Feathers will do fine, but be prepared to lose a few along the way. Adding a piece of light line to attach your lead as a 'rotten bottom' will give you a better chance of getting your rig back in one piece. Try to find areas where there is not much lobster fishing activity. Ballans are regularly caught in pots and the commercials tend to keep them for bait, so the area gets cleaned out quickly. We have seen this happen to large stretches of the Kerry coast. The best baits by far are ragworm and crab. Crab tends to winkle out the bigger fish and small hardback crabs are supreme and easy to collect from estuaries. Look to your charts and look for areas of coast where the water is deep and the bottom is rocky. Get in close under cliffs or rocky points and anchor up. Fishing straight down from the boat rather than flicking away from the boat and this is the best way to avoid tackle losses. A light boat or spinning rod will be fine, but make sure that you have enough grunt to remove a fish over 5lb from its rocky lair. A ballan of this size will break you off easily if your drag is not set and your rod is not up to the task. Drop your bait to the bottom. Wrasse bite very hard and you will be under no illusions as to what fish you have. I like to strike once I feel a bite and be ready for the run. Wrasse have hard mouths and an impressive set of dentures, so make your trace from 30lb mono at least. A specimen wrasse is 4.75lb. I believe there are more fish around of this size than we think but few anglers put the time in to target them. There is something special about a summer wrasse trip that will have you hooked even more so if you begin to tackle them on soft lures. Check out Martin McGowan's excellent piece on wrasse fishing elsewhere on TopFisher!
Cod
Cod would always be a species high on my list of favourites. Lately we have had very few cod in our waters and though the future looks bleak we must be optimistic and hope that this summer will yield some fish. On one of our last trips we caught a good few small cod, so maybe there could be some light at the end of the tunnel. Drifting patches of broken ground is cod territory. Standard store-bought traces work best and mackerel slivers will catch if the fish are on the feed. Hyabusa Sabikis and Hokkais will all work for cod Crab and worm baits will winkle one out if they are scarce. Soft lures will produce great sport on you seven foot lure rod!
The summer months bring an influx of big fish onto the wrecks off the south coast. This is more charter boat territory but well worth investigating. The beauty of cod is that the techniques learned during the summer will stand to you throughout the autumn and winter months. Don't rule out anchoring if you are consistently hitting cod at a particular spot on your drift. Crab is an effective cod bait, especially in inshore waters in autumn and winter but for the summer time when drifting reefs fresh mackerel will catch effectively. A light 6lb class rod is an excellent tool for catching cod and will give great sport when dealing with the average cod around the coast. Don't forget that lures will often out fish bait for cod!
Plaice
Plaice are probably the hardest fish of our six common species to catch but definitely one of the most satisfying and most anglers get hooked when they manage to land their first spotty fellow! Firstly, look to the ground you can fish, check your plotter for sandy areas. Even better if there is a feature such as a gully or a bank. A leger rig baited with either crab, mackerel or my own favourite, ragworm, will do the business. Spruce up your leger with beads and spinner blades to increase the attractiveness of your gear. Keep an eye on your speed of drift. You really do not want to be drifting at over two knots. A rule of thumb should be that a 6oz lead should be able to keep you in touch with the bottom. Drift your sandy patch and keep an eye on your sounder. As soon as the bottom shows approaching rocks reel up and go around for another drift. But do try cut it fine! Plaice will normally give a good solid bite. When you feel a tug, drop back some line to give the fish time to engulf the bait. After at around 30 seconds take up the slack and lift the rod tip firmly. You will know after a few seconds if you have a fish on board and by the diving and kiting you will know if you have bagged a flattie. Part and parcel of plaice fishing is the frustration of catching other species. I have lost count of the times I have thought I have a good plaice only to be confronted with the rolling motion of a doggie. You have to put up with this when plaice fishing but there's also the possible bonus of turbot or gurnards. When drifting sandy ground you may find you are gettingconstant knocks on your rod as you lead crosses the ripples on the sand. Depending on your direction of drift this cannot be helped. These knocks will be uniform and constant so you will eventually work out when you get a bite. The alternative here is to fish in an area where you will drift parallel to the shore rather than into or out from the shoreline.
Ling
Ling are distant cousins to the cod and pollack and can be caught in much the same ways. While a cod of 16lb would be considered a huge fish and a pollack of 10lb a fabulous capture, ling will grow to bigger proportions. Ling of double figures are common on deep water reefs and wrecks. In inshore waters ling up to 10lb are common and can give a good account of themselves. Without doubt the best bait for ling is mackerel and the best presentation is on a paternoster rig. I have studied video of ling on wrecks and they are very pikelike in their habits – lurking motionless in cover only to burst out and attack their prey, and they are not fussy about the prey! I would not expect to catch bigger ling in water under 100ft Store-bought paternosters can be deadly and ling seem to like rigs with luminous attractors. The only problem with store-bought rigs is that they may not be strong enough to take on a big ling off a wreck. For wreck fishing I like to tie up my own single hook paternosters from 100+lb line. Ling have huge mouths and equally huge teeth and they can munch through light mono easily. Also ling have a habit of wrapping themselves around the trace when hooked and this can put strain on the line. The minimum hook size I would use for a ling trace would be 6/0 and I normally use 8/0 as a ling trace will function well fishing for our next species – the conger. Drifting reefs will produce the most takes from ling, however when fishing at anchor you can be surprised with the biggest fish of your trip.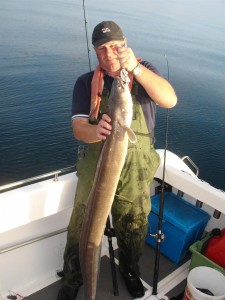 Conger
Conger eels provide some of the greatest angling sport during the summer months. Eels that have been lethargic during the winter months explode with a frenzy of feeding that will last well into November. Many dinghy skippers shy away from conger fishing because of lack of experience – an angry conger is a sight to behold on the surface but can be a major handful on deck! I find that getting the most sport from a conger fishing trip involves being prepared for handling the fish by having good gear on board and by using user-friendly traces. Along the south coast just about every patch of rocky ground has some congers present. Conger fishing is always done at anchor. Many skippers use a grapnel hook anchor due to the nature of the bottom, but if you are using a buoy to retrieve your anchor then there really is no need, a bruce or plough anchor will hold well on rock. Congers like a run in the water, so they definitely feed more aggressively during the flooding tide. While congers have a varied diet by far and away the most successful bait is fresh mackerel. I like to use a whole fillet, including half the head, mounted on an O'Shaughnessy 8/0. I like to fish using a baited pirk attached to a single or double paternoster. The baited pirk fulfils a couple of functions. Firstly, it is a great conger catcher and secondly, it makes the job of unhooking the eel at the side of the boat much easier. So find your piece of rock, anchor the boat and drop your baited pirk/paternoster combination to the bottom. Every few minutes lift your bait a foot from the bottom and drop it back down. Sometime congers lie on the bait and the lifting spurs them into action and also you will reposition your bait slightly. Conger bites are generally a good steady tug. When you feel the tug stand up and reel your rod tip to the water. When you feel a further tug on your line strike firmly. Pump and grind the fish away from the bottom quickly, as if the conger gets into a hole you may need dynamite to shift it! When you have the fish at the surface it is better to T-bar off the fish at the side of the boat. Bringing a good sized conger on board is not for the faint of heart. Apart from coating the floor with slippery slime, an anger conger can do damage around the floor of the boat. A specime conger is 40lb – a beast at over six feet long and not as common as we would like to think.
Whatever species you decide  to target this summer the six listed will offer you the greatest sport on offer. Many will take lures willingly but a bit of bait is a lovely way to fish and there is also the likelihood of other bonus fish as well.