There are many routes to water - Jim Clohessy begins this series and sings the praises of the Rubber Duck!
(Click on any photo to enlarge)
Your route to water…
More and more anglers are taking to the water in search of their quarry.  These days there are many options on how to get there.
It seems to be a logical conclusion that many anglers reach – Rather than fishing from the shore it may be a realistic option to get out on the water to chase your quarry.  Once you make up your mind all it takes is a little experimentation to see which way suits you and your pocket best.
Most sea anglers first forays onto the sea  is with a charter skipper at the helm. This is surely one of the easiest ways to test the water, if you wish, and it probably involves the least outlay. You pay your €50-€100 to the skipper and you takes your chances. How bad? This route suits many anglers and many form groups of regular buddies that take regular trips targeting different species at different times in the year. Some even get involved in the charter boat competition scene which is run under the umbrella of the Irish Federation of Sea Anglers and even picks an Irish Team or two to compete with other charter style anglers. It is a great setup if it suits.
If charter is the most cost effective method of getting to sea it does not tick the boxes for all anglers. It certainly does nothing for the fresh water angler! Also many anglers want to be master of their own destiny or want to target species that the charter skippers don't tend to specialise in.
The next most cost effective route to water a kayak. I will not pretend to know much other than the basics of kayaking. On the face of it it seems like a match made in heaven, a perfect vessel to take an angler out on the water, fresh or salt. The outlay can be steep if you really want to kit out to the max although entry level second hand boats are worth checking out.
Kayaks  fill many anglers with dread. The combination of fear of falling out and the prospect of paddling to wherever you want to fish will put many off. That's why many will lean towards the comfort of a hull that can carry a few anglers. Dinghy angling is a popular choice for getting to water and the entry level can be reasonably inexpensive all the way towards astronomical if you want to buy new. What about something in between the kayak and the fully fledged "small angling boat"?
The option that has gripped many anglers is fishing from a small RIB or SIB. I have been fishing out of my "Rubber Duck" for years. It offers a great option for getting afloat. An inflatable will stor easily if required. A small RIB will be trailered and launched easily. Performance is impressive from small engines. In sheltered waters a RIB will go anywhere that a bigger boat will. A RIB is an ideal boat for hitting shallow marks along the coast – a bass anglers tool if you will!  Over time we will include features on each type of craft and getting them set up but  here's the evolution that has brought me to where my little boat fishing is at present:
There is always one thing to remember about getting afloat – Every vessel is a compromise. You make the compromises due to what you want to do and where you want to do it, your budget, your preferred fishing styles, your dreams for the future and  any other factor that tend to be a part of your angling life. A wise old man once said – "If you have an enemy, buy him a boat!" Why the hell would somebody want two?  It was a straightforward decision for me. I needed a small boat that I could launch at close to low water. I wanted to get something that was easily handled on my own but I also want to be able to carry my gear, maybe another angler and I wanted a turn of speed that I am used to in my Warrior 175. A rubber boat was always going to be the preferred choice. I experimented with a little Avon for a while before taking the plunge and purchasing a 3.5m Honwave SIB. (Explainer: SIB – Soft-hulled Inflatable Boat. RIB – Rigid-Hulled Inflatable Boat.) That little beauty was powered by a 15hp Honda motor and sat perfectly on an Indespension trailer. A perfect fishing machine. As time went by I fitted an electronics suite and basically had the boat perfectly set up as an angling machine. It would appear that some others though so too. The police contend that I was the victim of an Eastern European crime gang. My Honwave was stolen from the side of my house. The hull and engine were stolen. The trailer was left behind.
Not to be bowed I set out to replace my little craft. I watched the likes of DoneDeal and the popular boat sites waiting for a suitable craft to appear. I did not have to wait long. I purchased a 3.4m Walker Bay Genisis Rib with a 15hp motor. It had no trailer but that was the one thing I did not need.
If the story has any positive it is that the Walker Bay Genesis has been a revelation. It is a superb little craft and I have knocked out some craic out of it in the past year. Late last year I decided that I would take on two projects – I would upgrade the engine and also I would do something about my GPS capability.
The choice of engine had me studying all the latest blurb on the latest small engines.  The Tohatsu I had was a fine motor and painted in different colours was also the offering from other manufacturers like Mercury. Suzuki hit my radar due to their launching last year of a new 10/15/20hp motor. This power plant is revolutionary in terms of it being the first time that fuel injection was being offered in a small engine. It would seem that Suzuki engineers had solved the problem of fuel injection startup without a battery. While many would say "stick to the older technology" I reckon that it is always worth supporting the companies that are trying to be innovative. Besides a quick check online revealed only happy operators so it really wasn't that much of a leap into the unknown!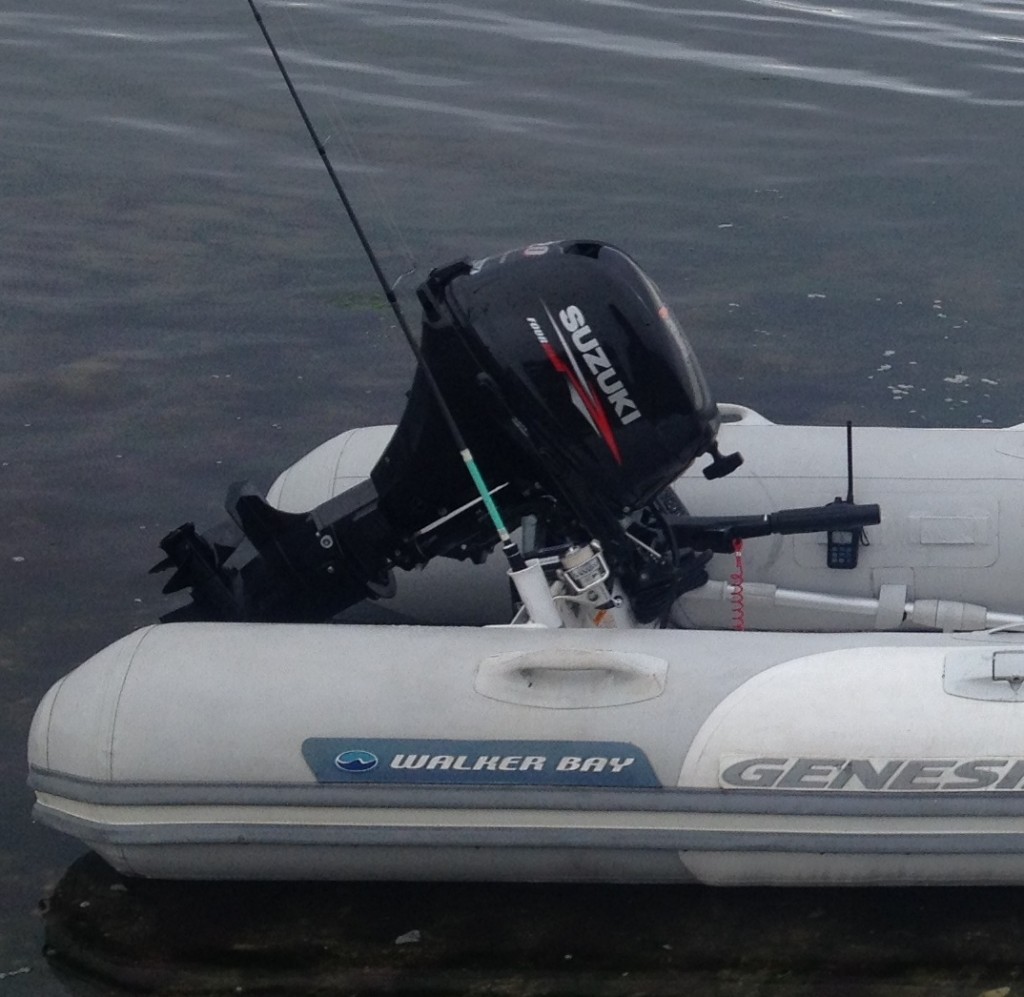 I opted for a 20hp motor. It would make little difference to me in terms of boat speed when fishing alone but it would make all the difference when I operate with another angler or indeed when I regularly operate with a gang of kids intent on leaping off any available pier in the locality.
I have run the engine for three months and I must say it has been a joy to use. I now remove the engine after each trip and the 20hp is not too heavy for humping around. Starting is easy. The motor is close to silent at tick over. I find myself tootling along at 18 knots at about three quarters throttle a lot. This is simply because the engine is so very quiet at these revs. There is a decent throaty growl at full throttle (We may feature a proper review of this motor later).
Up to now I have operated with a fixed fish finder, the excellent Garmin 300c, and I used my trusty Garmin Etrex handheld GPS. I was about to upgrade my GPS aboard my Warrior 175 – The 172C Garmin  was functioning well but I wanted something that would refresh more quickly and also the new Garmin units have a more modern fishing chart loaded. So I decided on the Echomap 50s. I bought an extra power lead, mounting bracket and a transducer for the unit and have it now fitted to the Rubber Duck. The Echomap50 is a Gps/Finder combo on the duck and Just a GPS on the Warrior.
So what can you get on the water for? A quick search on Donedeal.ie reveals that you can get a second hand combination for anywhere from €1000 upwards. Surely this is an inexpensive method of getting to water. Once you get on the water you can then get the extras that you may need. I started out from a bare inflatable and it was not until a year or so later, as I realised the potential, that I added electronics and suchlike.  If you decided to get on the water do not forget to budget for the other bits of gear that you may need. On board I will always have a lifejacket, VHF radio, Anchor and rope, air pump, landing net, battery and plenty of tackle. All these need to be budgeted for when you are considering your purchase.
What do you get for your investment? You get a craft that you can use all year round on fresh or salt water. I now have my boat set up as I would want it and hopefully will have no other expense for the foreseeable future. My Rubber Duck is not a replacement for my Warrior. There are limitations to what you can do in such a vessel. But it is perfect for much of the fishing that I do.