Sorting your kit out now will gain you fishing time in the end and could ensure that you land the fish of a lifetime - So says pike guide Mark Houlihan.
January and February can be difficult months to hunt pike on the fly as fish often reside in deeper water. Low water temperatures will slow their metabolism making pike lethargic and for the most part unresponsive to fly or lure. Of course there will be plenty of sport to be had but deep trolling and dead baiting will be the most productive methods. I will spend less time fishing and more time getting myself sorted for the season ahead. There is much to do. The boat needs to be looked after and of course tackle need some tender loving care and that is before there are any flies tied!
Soon enough pike will start to liven from their winter lethargy as water temperature rises and spawning time approaches. Large numbers of Jack pike will begin to congregate in shallow bays while the larger females feed heavily on an abundance of prey in anticipation of spawning. This is one of the best times to target specimen fish on fly in shallow water and time spent preparing now will pay dividends in the not too distant future. It's all about sacrificing some fishing time now to gain as the fishing really begins to take off. Tying flies, building leaders and cleaning fly lines are all essential jobs that need doing. Boats are cleaned, engines serviced, batteries charged in the knowledge that in a few short weeks you find yourself in the right place at the right time, the fish switch on, the line stops, then straightens, the rod bends, line shoots through the rod rings, the reel sings as the fish lunges in the air.
Fish on!
Our preparation is geared around what we have learnt from season 2013 and before. What went well for us on the water last year? What did not go as well as planned? What mechanical problems did we have with boats and tackle? What new gear proved itself indispensible on the water? What do our records say about the movement of Pike on the Lee system? Taking all the factors into consideration can we begin to plan our season based on previous patterns of fish caught? To a degree we can begin to plan but we will be driven by current weather conditions. We will not be left wanting in terms of our equipment and tackle – then all we will need is the fish to play ball.
It's good to reflect on the fishing of 2013 and for us guides at Fly Fish Ireland it surely was a season of two halves. The spring to early summer fishing was spectacular with a number of our guides and many of our guests setting new personal bests on fly. It seemed like we could do no wrong on the water. We had proven fly patterns in operation and we had the locations of the fish reasonably nailed. While there are no guarantees in angling the amount of fish in the system could be staggering at times.
Then during midsummer we experienced a sustained heat wave that drove lake temperatures to exceed 25 degrees. There was some wild fishing to be had but warmer water contains less oxygen. Warmer water increases the pikes metabolism and many hooked fish die from exhaustion during these conditions. In the interest of fish welfare we made a collective decision to stop pike fishing until lake temperatures stabilized to more normal seasonal levels so we concentrated our efforts on the sea in search of Mullet, Pollack and Bass. It took almost 3 months for water temperatures to drop below 20 degrees but Mother Nature had taken its toll. On the bigger deeper lakes, pike were at depths of 30-40 feet in cooler more oxygenated water and on some of the smaller shallower lakes large numbers of fish had been reported washed up along the shoreline, a timely reminder of how fragile these magnificent fish really are.
The Tackle
In this part one, I will go through the winter work that is crucial for preparation for the season ahead. We will begin our focus on our fishing tackle.
I try an adopt a simplistic approach regarding all aspects of my fishing and most of my fishing is done with one rod. Sage Xi3 8 weight, generation 5 technology ticks the boxes for me. Light, responsive, powerful and has more back bone than many 10 weights I've had the pleasure of owning or using.  It has landed specimen pike in the mid 30 's and on tropical trips it has boated Tarpon, Permit, Cuda, Bonefish and has never been found wanting. These rods are an investment but in my opinion its one worth making.
Also I carry a 10 weight setup which I use for bigger natural  flies or windy days. Having the ability to tie your own flies allows one to tie to suit ones rod rating. The explosion of synthetic fly tying materials over the past decade have also made it possible to cast bigger flies on lighter setups.
Being a guide, I get to fish with many different people and have tried a multitude of different rods of varying budgets. A rod doesn't have to be expensive to be good, it simply has to be "fit for purpose". Saltwater,  predatory Pike and Musky rods need to be as light as possible, direct, responsive in casting, soft and sensitive in the take, solid in the strike and offer a balance of enjoyment and power in the fight. Finding a rod that offers all of the above on a budget can be a minefield but it is possible. US Rod manufacturers such as St Croix, Temple Fork and Echo produce good, reasonably priced,  "fit for purpose",  fast action rods. Closer to home Greys, Vision and Shakespeare all produce reasonably priced Pike & saltwater fly rods and I really like the Shakespeare Agility XPS series for its budget price and quality performance proving that you don't have to break the bank to fish effectively on the water.
For many of us Pike fly anglers the season never ends, it merely slows as temperatures drop and fish become less responsive. Our venues change and oftentimes smaller waters offer a greater chance of sport but this is a good time of year to thoroughly clean and maintain fly lines, clean and service reels, build new leaders and get behind the vice and replenish those fly boxes.
Fly lines need to be maintained to the best possible standard, removing coils, kinks and debris. Worn lines that coil and kink when casting are the bane of fly anglers and for the most part this can be avoided. Putting a little time into fly line care enhances your fishing experience and extends the life of your fly line.
Many anglers like to stretch their fly lines before they store them for the winter but it's better to clean the lines and store off the reel in large, loose coils. The time to stretch your fly line is just before you use it and not before you store it as the latter will only make the line worse as it will contract on the reel and create even more memory. Stretching you line or lines before each outing is good practice and this can be done by attaching the head of the line to a solid object such as a fence post or tow bar, walking back releasing line, keeping it off the ground and applying 2-3 pounds of pressure for about 10 seconds before winding the line back loosely onto the reel.
Sorting out fly boxes and buying or tying new patterns is one of the key exercises in ensuring you have a full arsenal when perusing your quarry. Knowing where everything is and at hand increases fishing time and fly box organisation should be regularly undertaken. Conditions change, waters colour, baitfish and size vary so having a selection of flies to cover most eventualities is paramount. It's also a good time to remove corroded hooks and re sharpen as required with a hook file.
Whats my favourite fly? …….The confidence fly!!
The truest words in fly fishing. Fishing a fly that has proven its worth gives you the confidence to fish hard. You stop second guessing your approach, tackle, leader setup,  location and just concentrate on fishing. Every year one or two patterns rise to the top on a variety of waters over a multitude of conditions.
Last season it was the turn of the ' Agitator':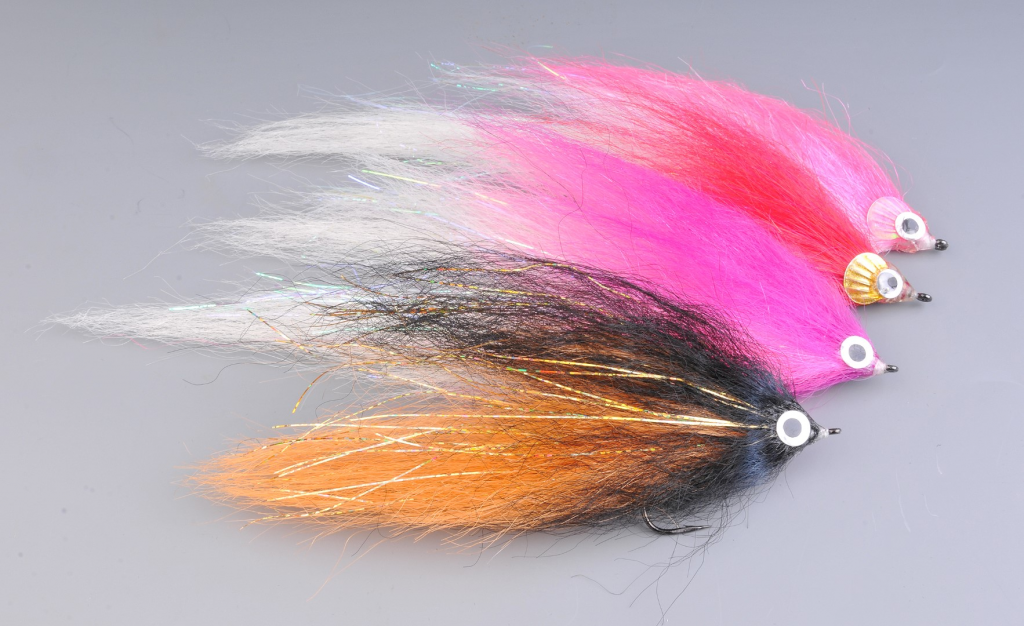 Extract from Ad Swiers latest book "A world of pike flies":
"The Pink and white Agitator is one of a series of rattle flies designed by Mark Houlihan.

A 20cm fully synthetic rattle tie originally  designed to limit the amount of follows from interested pike and hook fish at greater distances from the angler.
It can be fished on any line density with any retrieve but it is most effectively fished erratically sub surface.

The pattern can be tied in different colour combinations to suit each fishery. The profile and hook size is important to accommodate the rattle. The front profile of the Fly  is a series of Hollow ties and must be allowed to keep its shape allowing the fly to "push water"
Finishing the fly with tab eyes helps in achieving the correct profile.

This is a big fish pattern that can take pike in the toughest of conditions. The rattle produces more takes and better hook ups. "
The Rattle
The Pink & White Agitator in action. Listen to the "Tick, Tick" resonating from the rattle. Absolutely deadly!
Every season brings new challenges, renewed optimisms and I am heartened by the increased awareness of pike welfare and protection through social media channels. The great work done by Debbi Pedreschi and her findings that pike are and have always been native to the Island of Ireland should be the corner stone for the foundations of a new fresh way of thinking on a governmental level where pike culling and relocation are confined to the past.
In the next part we will look at building pike leaders and understand why it is such a critical part of the process overlooked by so many,  also we will take a look at a simple but affective pattern the "Stealth Fly" and why you should not leave home without one.
Coming Soon – Leaders, Lines & Lures. Tying some easy Pike Flies. Boat setup. Getting the most out of your rental day…
About the author:
Mark Houlihan has been guiding anglers for many years both fresh and salt water. While fly fishing is his thing he is a lure angler of some repute.
Mark mainly guides in the water around Cork but has been known to head further afield if the fishing dictates!
You will read plenty from Mark here on TopFisher over the coming months and we look forward to superb action from the Lee Valley system, Marks home water. You can see more about Mark Houlihan here: www.flyfishireland.ie