Jim Clohessy has been wreck fishing for many years and has a high success rate in catching the bigger fish. Lures are nice on wrecks but bait is often best. Big fish need big traces….

Making The Ultimate Wrecking Trace:
Jim Clohessy has been wreck fishing for many years and has a high success rate in catching the bigger fish. Lures are nice on wrecks but bait is often best. Big fish need big traces….
Wrecks have broken my heart. I remember on one of my first trips to a wreck, with the legendary Brian Byrne of Lagosta fame, I had caught the fish of a lifetime. I was trying to break my duck with my first specimen ling. A 25lb ling is a decent fish.
We drifted over the wreck. I had a set of "fatboy" hockeyes on baited with big slivers of fresh mackerel. I was doing everything right. I was keeping in touch with the bottom. Brian walked out of the wheel house and in his nasal tone uttered those immortal words "the wreck is just beginning to show boys!"
I know I tensed up with anticipation, so did the other lads on board! I could feel my lead trundling and bouncing along the steel. I had to reel in a little line every few minutes as my baits rose up the steel hull below. Bang! A bite. Bang Bang! A Bite. Quickly I reeled in the slack and wound the rod tip down to the water. I struck the fish smoothly but firmly and reeled steadily to keep the fish away from the steel. If I let up on this fish it will surely snag me up. The battle was immense. I would gain line and then lose some as the fish realising it was caught would try and nose dive for the wreck. Pump and wind. Pump and wind. From three hundred and eighty feet to the surface.
I could tell from the nature of the fight that I was into a ling. I could also tell that it was a big ling. Certainly the biggest I have ever caught. I was trembling all over.
I worked that fish like a professional. "you have a decent one on there" says Brian, and he would know. Steadily I reeled. Nervously I watched my rod, watched my line and watched the water. I was willing the fish to the surface. Suddenly I could see colour and indeed it was a huge ling. I could just make it out. Closer and closer it came and nearer to the surface it spilt in two and made one last lunge for the bottom.
Spilt in two? Wait a minute. My heart began to crack. My joy began to subside and sink to the bottom towards the big wreck below. I had caught two decent ling. Brian netted both together. "There's more than thirty pounds of ling there" says Brian. Then he could see my face. Not really what I wanted to hear. "Hard luck there Jim, maybe the next drift."  It wasn't to be. One of the lads caught a 28lb Ling and we had loads into the early twenties. "Maybe the next trip!".
With the inevitable post mortem of that trip I decided on one thing going forward. I needed to settle on some wrecking gear that would prevent the break offs and more importantly would try and avoid the pain of the double hook ups.
I settled on a homemade trace route. Simple tough gear that would be capable of hauling monsters. It took a bit of refining and testing. But once I settled on a pattern it has served me well. I'd say I am fishing the same pattern traces for twenty five years!  Specimen ling, specimen cod, specimen conger and even a stray specimen whiting. Bait caught specimens – all caught on a simple paternoster trace the only variation tends to be the level of bling around the hook and maybe the choice of a pirk or standard lead to get me to the bottom.
 So let's set about constructing the simple paternoster that had served me so well over the years:
Line:
Mono all the way! I use 60kg mono. It's a Surecatch IGFA Tournament mono. It just so happens That I like Surecatch mono. I usually use Surecatch Hi-Tensile Formula in 100lb or 150lb but I happened across a spool of 60kg (130lb) at one stage. The spool is 1000m so I reckon it will see me out! The Hi-Tensile Formula is one of the softest +100lb line I have used. It knots very well and doesn't tend to go all squiggly when knotted and pulled tight.
First I'll tie a standard loop at the top. Sometimes, when the humour takes me I'll tie on a big swivel here instead of a loop. You will already have a decent snap swivel on your mainline so another at the top of the trace is probably overkill – your choice really.
I will then move down about 3 feet (1m) and here I'll begin to tie a dropper loop. The dropper loop is an invaluable knot that you will use over and over. I prefer a loop knot to swivels beads and crimps. Of course you can use beads, swivels and crimps if you like. My experiences wrecking tell me it's not necessary.
It takes a bit of practice to get loop the correct length.  My snood will end up about 12in long. 16in if you include the hook. So to allow for the knot 14-16in would be great to achieve. I have used longer and shorter snoods and all will work. The 12in is the one I am most happy with. So the knot need to have a  loop of about 6-8in long before you snip. If you get the loop too short tie a swivel into the snood. It won't do any harm. I have often done it myself.
when I have completed the loop I will then measure out the bottom half of the trace. An I do usualy have the snood half way. So From loop to snood is 3 feet and from loop to snap swivel will be a further three feet. If you want your bait to be closer to the bottom you can shorten this bottom distance. I have found that the 3' catches fish and maybe, just maybe, catches the wreck less!
I tie a decent snap swivel at the end of the trace and I mean a decent snap that will take abuse and weight. I would say bigger than 1/0 but there are some swivels rated very highly out there . The black Surecatach crane coastlock swivels are rated at 143lbs in Size 1! Whichever swivel you go for just make sure it is a good one. Why the concern for the end swivel? Simple really. When I am fishing for congers I will add a baited pirk to my wrecking trace and away I go! Obviously you need a good attachment when conger bashing!
Next we begin to appeal to our creative side!
I will always add some bling. I think it helps attract ling. I'll slide a few beads and a spinner blade up the snood. I have used booby beads instead of the spinner. I have used lumi tube instead of beads.
I will then slide up a muppet. I pick these up all round the place, when on holidays and at shoes I will always pick up muppets in the bargain bins. I like luminous. Ling like luminous. If the muppet is not lumi then I'll add some lumi beads or tube. If the muppet is lumi I'll use normal beads.
Notice how I put three beads into the body of the muppet. I do this to keep from sliding down over the hook and the bait. I like to keep it up out of the way where it can give the most attraction.
Next I tie on my hook. With a standard blood knot (Well lubricated with spit).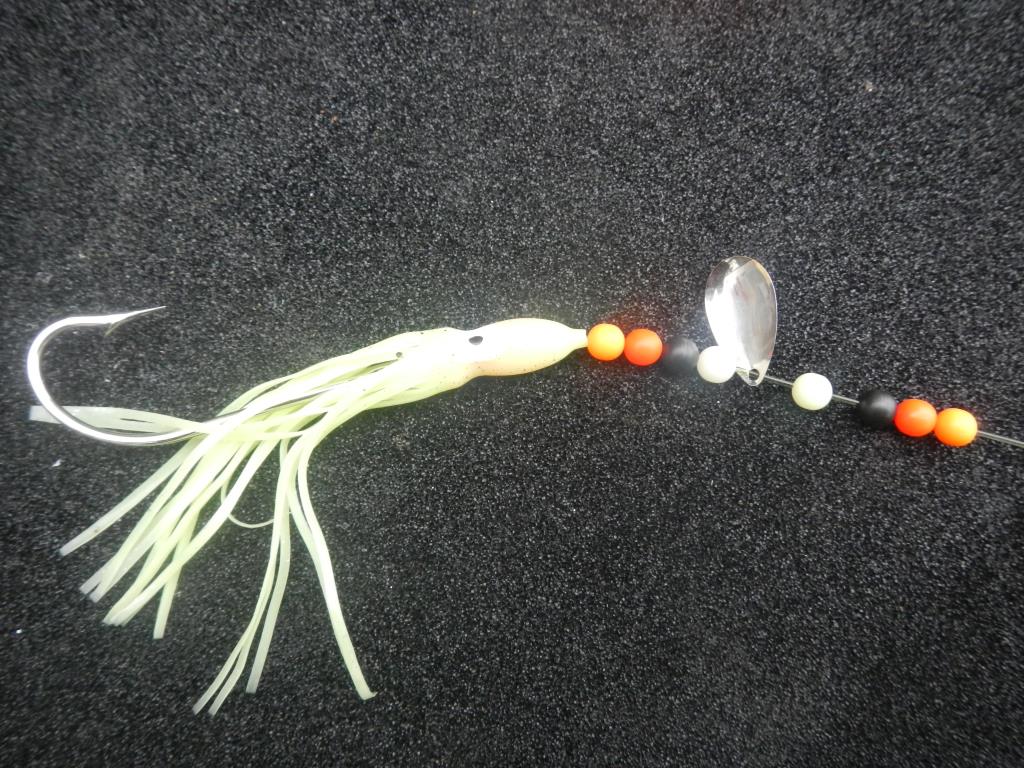 I will never use smaller than an 8/0. I would rarely go bigger than a 10/0. I have bought 8/0 in bulk from time to time. Once they test well I am happy to use unbranded but I would bench test them. That's the thing about wrecking and wrecking traces: Make your mind easy, you will lose lots of them!
The final part of the process is a simple test and tighten. I hook the 8/0 over the handle of the vice in the shed and apply some decent pressure to the trace. This allows the knots to bed in and will expose any weakness in the hook.
Is all this really necessary? Well, look at it this way – it is rare enough that you get the chance to go wrck fishing in your small boat. You must make the most of the time you have out there.  Wreck fishing tends to expose weaknesses in gear so it is important to have the best. Strangely the fellows with the best tend to fish the best and have the best results!
I bag and tag my traces and put them into stock in the shed. I would always like to have a minimum of a dozen when going wreck fishing, more likely more than that. I remember a particularly one hard day I lost 13 traces in about twenty drifts! Ouch! A small boat wreck fishing will take way more drifts over a wreck than a charter boat will. That's just the nature of things. I will tie some wrecking traces every now and then in order to keep my sock levels up both in my trace wallet and also in the shed.
Now you have a winter to get prepared for that trip that may happen when the weather settles. Get preparing, get tying! When the day comes you just need to add mackerel!
Look at the results:
Back in 2009 I took a spin on Ocean Ranger. She is a Safehaven Marine Cat belonging to Michael Walsh. I am usually one to fish from small boats but couldn't resist the opportunity to have a run in Mick's new craft. We headed to some wrecks that we were both familiar with. We had a reasonable session. I fished mainly with lures. There were some nice ling coming on board. I decided to take a run with bait. I clipped on my paternoster and baited with a complete half of mackerel.
Believe it or not on my first drift with bait – Bang! – fish on. I had a royal tussle with he beast and landed a beautiful specimen ling just a couple of ounces short of thirty pounds!
Here's the dropper animation from animated knots: