Trip abroad? Our resident globetrotter Stan Ryan makes you feel like you are there!
Willie ,one of the group that went to Guinea Bissau, in 2012 proposed Florida as a destination for 2013. His son, who is a keen angler, lives there and could set everything up for us. This meant that there was very little planning on our part to organise  either, skippers or accommodation.
All we had to do was book flights and sure this should be no problem!!! Not so. We booked an early morning flight for mid-March, with Delta. Departure from Dublin was at 6.30am to Paris and then onto Miami.
First problem was that we could not get clearance from the USA officials at Dublin airport as they did not come on duty until 7am. This is a relatively straightforward process in Ireland and only takes a few minutes. It took well over an hour and a half in Miami.
The second problem was that while booked with Delta, we were actually flying, with Air France. At the check in, at Dublin airport, we were informed that we could only be checked through as far as Paris and we would have to collect our bags and check in again there. As we had a short connection time we would now be under pressure to catch the onward plane. It got worse!…when we arrived in Paris the computer system was down and so the whole airport was in a mess with hundreds of people in various queues trying to get their next flight. Fortunately, our flight to Miami was delayed by 3 hours and so we did make it. I must add that the staff at Charles de Gaulle airport were not anyway helpful to us or any other passengers and I certainly would never fly through there again. Such are the trials and tribulations with travelling abroad.
Collecting our car at the other end was also a nightmare as the queue was very long. We had booked through a well known company here. Lesson two….book directly with one of the big firms such as Avis or Hertz.
In 2014 we flew Dublin-Atlanta and onto Key West. As the flight was at 10am we got clearance at Dublin airport quickly. The airport in Key West is small and we collected our car in 10 minutes and were in our house within an hour.
Without further detail I will just say that planning the flights and booking the car is extremely important for a good start to a trip.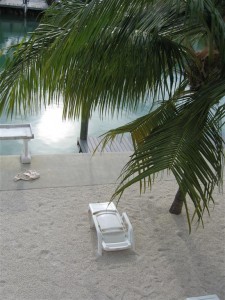 Accommodation
We rented a 4 bedroom house in Key Colony Beach (KCB), Marathon in 2103 and 2 houses in 2014. They could only be described as excellent and had every possible requirement in them.
When it is said that everything is big in the USA it is true. The cooker, the fridge, the washing machine looked fit for commercial use. Of course we had WiFi and a TV which to quote the great Bruce Springsteen had  "57 channels and nothing on".
Both houses backed onto the local canal and had full berthing for a boat. Just walking out the back door, fish could be seen swimming around in the water.
There are several restaurants and bars in KCB. Our favourite was Cabana Breezes. We got good food, beer, wine and music. This bar and restaurant is right on the sea and there is even a jetty from which you can see fish darting around in the water below.
They even provide a shuttle service to and from any house in KBC.
A meal with a starter, main course and a couple of beers plus a tip generally would out about $50-$60.  It is important to remember that waitresses and bar staff generally rely on tips for their wages and so we added 20% to our bill each night. It is still cheaper than a night out here.
Fishing
As a group we like mixed fishing and doing something different each day, if possible.
This report will refer to 2104 which was similar if not identical to 2013.
First of all the boats are out of this world. Our boat was a 34ft centre console boat with twin 300hp Suzuki engines. Needless to say it was equipped with the best electronics. There was a huge icebox in the front that kept bait frozen and food cold and also allowed us to bring home some of our catch in perfect condition.
There was a large array of rods and reels of various sizes.
Our skipper did not try to spare fuel and when going to our various destinations the boat flew along like a bat out of hell.
Day 1
About a mile from port a throw net to was used to catch some pilchards which were stored in a live well.
We then steamed out to a wreck about 10 miles out. This boat was about 180 feet long and was in 120 feet of water. She had been purposely sunk to attract and hold shoals of fish. Numbers of these wrecks have been sent to "Davy Jones locker" over a large area and it was amazing when looking at the sounder to see the huge volume of fish in quite a large area around them. It would be a great idea for our government to follow this idea. Of course for it to be successful commercial fishing boats would have to be banned from netting anywhere in the vicinity of one of these "fish magnets".
Pilchards were used as a live-bait on 2 rods and fished just off the bottom.  It was impossible to know what predator would grab one. Initially we had some nice Amberjack up to about 40lb. This member of the jack family is like a bulldog when it grabs the bait and fights every inch of the way to the surface.
Meanwhile 2 other rods had a small bucktail jig attached to them and were cast out to catch Bonitas , mostly about 1-2lb, which were then used as a live-bait for bigger fish.
First hit was from a King Mackerel. These fish hit the bait with ferocious speed and go tearing off at rate of knots. Like our own mackerel they fight right up to the boat.
Fish after fish came in and our arms were worn out from the non-stop action.
Just to comment on the equipment. For smaller fish we used 2500 size reels with light spinning rods and 12-15lb line. This meant that a small Bonita could give a great fight on suitably geared tackle.  Then we had Penn Spinfisher 4000, 5000 and 6500 and Slammer 760 reels geared with matching size rods. Given the fact that these reels are used day after day and given terrible abuse I think that they are possibly one of the best reels available for a very reasonable price.
The rods were generally Shimano Terez of various rating and again these suffered unbelievable punishment day- in-day- out and rarely break.
There is one disadvantage to using relatively light gear in that some fish are lost due to lines breaking or the drag just not being able to stop a powerful run. I should also state that at all times the drag on each reel is set quite low and the initial run can be unbelievable as a result. The temptation is always there to tighten up and try to stop the fish. This would definitely result in a smash up. However, once you know that a fish will eventually stop, you get used to waiting for the fish to slow before pumping the rod and winding down. Several runs may occur.  A 40 minute fight is quite common. As the run in the tide slowed down so did the takes.  I had a target for this trip. I wanted 3 species, a Goliath Grouper ( Jewfish), a Dolphin fish ( Dorado, Mahi Mahi) and a Sailfish.
I asked the skipper could he troll a Bonita along the wreck to try and tempt a Jewfish out for his dinner. First pass along the side and I got a take. Despite my best efforts this fish headed straight back home and my trace parted from the main line. On the fourth pass the rod had a very strong bend in it and the skipper put the engines in gear and pulled the fish about 30ft out of the wreck. A harness was strapped to my shoulder and attached to the reel and the rod was in a very large butt. I soon realised that I had a very strong opponent at the other end of the line and had no control when he decided to try to escape. The fight was just a series of slow determined unstoppable runs. After what appeared to be eternity a huge brute could be seen on the way up to the surface and on arrival turned belly up. The swim bladder had inflated and so the battle was won. None of us had ever seen such a huge grouper before and the general comments ,expletives and gasps poured out…..definitely making for an over 18 video. Goliath was gaffed in the lower jaw and it took 3 of us to drag him onto the gunnels. Estimates of size then started but our skipper, Billy, estimated a weight of 350lb. A filleting knife was then produced and the fish was stabbed behind the pectoral fin. Air rushed out as if a large tyre had been punctured. When the skipper was asked if the fish would survive he assured me that he had caught some fish several times and could see where previous wounds had healed up.  Anyway when fully deflated this majestic creature flicked his tail and headed back into the deep.
Day 2
We went shark fishing. The skipper anchored up in very shallow water in a channel between two sand bands. These banks did not dry out but there were only inches of water over them. Three large barracuda were hung over the side of the boat to attract sharks. Remember that sharks can smell parts per million and in no time at all we had several sharks swimming near the boat.
The rod used was a Shimano Terez and a Penn Spinfisher 6500. This gear is much lighter than what is used here by the various charter boats and is more than capable of handing any blue shark that might be caught in Irish waters. It provides much greater sport than a big 4/0 or 6/0 reel tied to a 50-80lb class broomstick type rod.
The rig was very simple. Some single stand wire leader was attached to 200lb monofilament line at one end and a single strand wire line at the other end. Attached to the latter there were a size 6/0 single hook and below this a large treble.  The two hooks were sunk into a chunk of barracuda that could be cast up to 30yds from the boat. As the water near the boat varied from 2-8ft deep sharks could be seen clearly in the area and even approaching the bait. Sometimes it was even possible to cast a bait right in front of the shark and this would often initiate an instant attack. The variety of species was daunting.
First fish to the boat was a large lemon shark of approximately 160lb. These toothy creatures tear of in flying runs and their solid body mass makes for a great fight. Next up was a 150lb nurse shark. These fish resemble very large bull huss and fight with strong slow gliding runs. Probably the best fight of all is from a bull shark as they simply will not give up. A 180lb fish flew in circles around the boat and one of the lads was on the point of exhaustion when the fish was eventually brought to the side. We also had black tip and sharp nose reef sharks. The little beauties varied from about 25-40lbs in weight and went crazy when hooked. Their fight would resemble that of a tope on speed with some of them jumping clean out of the water. Total tally for the day was 21 sharks. That was 5 sharks each. Fishing was best at the turn of the top of the tide and again at the bottom. In between we were able to observe a marvellous display of creatures. Some of the turtles were large and swam along the top of the sand banks. The sharks tended to avoid swimming over these banks and so the turtles were a little safer there. Some huge bull sharks, weighing hundreds of pounds, could be seen swimming around and apparently they like eating turtles. Manta rays as big as dinner tables glided by gracefully.
It is possible to target  bigger sharks up to several hundred pounds but landing them means chasing them around with the boat and can go on for a very long time. We were happy to catch sharks up to 250lb.
Day 3
Some us are species hunters and so a day was spent on a coral reef. Frozen chum was hung over the back of the boat. Live shrimps were the bait. Fish were soon attracted to the boat and could be seen clearly darting up and grabbing some chum. The number of species was unbelievable: grunts, parrot fish, file fish, slippery dicks, moray eels, various groupers plus an endless list of beauties that would look brilliant in a very large aquarium. Using 2500 size reels loses were inevitable as some of the fish were quite large and took off at the speed of light.
This was a very relaxed day and much needed after the previous two arm wrenching days.
Day 4
We went to "the Humps" which is 27 miles from Marathon in just under an hour. Just imagine any charter boat doing this in Ireland!!
"The Marathon Hump" is an underwater mountain that rises up from a depth of 1150 ft to 480 ft. It is right in the middle of the gulf stream where there is a strong current. Bait fish are attracted to it and are followed by tune and dolphin fish plus other species. It is a boiling cauldron as the bait is chased around by bigger fish. Bucktail jigs were trolled through the water on 3 rods. Unfortunately, this year the tuna did not show up. However, in 2013 we landed 45 Blackfin Tuna . Most were caught trolling but some by casting lures at the shoals. My favourite lure for these is a Dexter wedge with a hole through the centre. It is simply deadly. The average size of this species of tuna was 5-8lb. Think of an 8lb Mackerel on your line and you will have an indication of the fight that occurs. Skipjack tuna up to 12lb also showed up.
The skipper then mounted a live Blackfin on each of two rods and lowered the bait down to 400ft. One was immediately grabbed by a huge a Amberjack which escaped after 20 minutes. The second had a hook up by another huge fish that just could not be stopped.
Day 5
In places the sea had large floating masses of weed and Dorado hang out around the edges in small shoals. This was a very exciting form of fishing as we could see the fish clearly and target them. Pilchards were fired in their general direction and usually got a strike quite quickly.
Wanting to try something different I decided to try a popper. It was easy to place the lure directly on the shoal and despite the skipper saying that this method would not work it was actually extremely successful with a fish on first cast followed by several more. After several fish were caught the shoal seem to stopped feeding and it was time to target fish somewhere else in the massive weed covered area. The fish were all schoolies but provided great entertainment leaping and dancing out of the water.
I hooked a 20lb Dorado the following day on a bucktail lure. My gear was really light, 12lb line, 2500 Spinfisher and a light spinning rod. On its first jump my heart was in my mouth. Then it took off at such speed that the reel was in danger of being spooled. So it was a case of chasing the fish with the boat. After a nail-biting 20 minutes he was eventually at the side of the boat. These colourful acrobats of the sea have to be among the most beautiful creatures on earth.
Day 6
More fishing by sight but this time for Permit. These huge fish (up to 80lbs), which are members of the jack family, shoal up on wrecks at spawning time. They feed on crustaceans and the trick is first of all to locate the shoal and then to fire a live crab towards the fish. The take is savage from this hard fighting fish and as they are solid muscle a serious amount of rod bending with searing runs occurs.
Trips and things to do on the Keys
Key West is well worth a visit. It is a lively holiday resort full of good bars and restaurants. Hemingway's house  is open to the public and for all those who have read the book or seen the film " The Old Man and the Sea" this is a must.
Further up the coast Islamorada has a Basspro shop and there is some good value to be had.  The name on the shop is the World Wide Sportsman. It is not as good as some of the Basspro outlets as it carries a limited stock. One item I always buy is Powerpro braid. It is much cheaper there than in Ireland and comes in bulk spools. There are endless selections of lures. Excellent filleting knives are very cheap. If you suffer from "child in the sweetshop syndrome" stay away from Basspro!!
On leaving the shop take a good walk around the local marina and you will see huge Tarpon and Stingrays swimming around gracefully.
We hired bikes for the week. These had extra strong frames, old fashioned handle-bars and wide wheels. It was like a scene from "the Waltons". Although wrecked after a days fishing it was a great way to explore the general area.
It is surprising what is missed when driving around in a car. We saw all kinds of wildlife including a sea eagle on a local nest and a very large lizard.
We explored local housing estates.  One local area called "Sombrero"  was obviously very wealthy with huge mansions. There was a local school there and a sign stating that this area was a "drugs free zone". What this really means is that anybody caught with drugs in this vicinity will get twice the normal jail sentence!!!  Might be a good idea for Ireland.
Health Matters
One night I woke up in agony with my big toe absolutely throbbing. Even if the sheet touched it there was an unmerciful pain shooting up through my foot.  Fortunately, I knew that it was gout as my father suffered from it. To cope with this the next day I kept my foot in a bucket of ice as much as possible. Apparently, there is nothing as funny as seeing a man chase around a boat after a big fish while dragging a big bucket behind him.
One of the other lads on the trip also suffered from gout and had some tablets that got me through the rest of the trip….. thanks Terry you were a life saver.
It is essential that one take out health insurance for the USA as it will be required to go to the doctor or hospital if there is any real emergency.
Video of trip:
Stan is a Dublin based angler. He has taken many trips abroad to many different locations.
He has no affiliation to any travel company and his reviews and reports are real and unbiased.
If you want to contact Stan you can do so via the editor@topfisher.eu