Did you ever consider bass fishing in Holland? Steven Bockstal is a passionate angler from Belgium and here he makes the case for the Delta region of the Netherlands....You will be tempted!

The Delta!
In the southwest of the Netherlands you find a big Delta area, where a few rivers end their journey into the North sea; the Meuse, the Scheldt and the Rhine. Some of them are blocked or tempered by big dams and sluices. Those were built after the big floods which occurred back in 1953 . These adjustments changed the delta into its present form. For anglers who are seeking seabass, here they may find a rich choice of fishing spots. However due to all the adjustments, for success many different ways of fishing techniques and local knowledge are the key words if you hope to get the most from The Delta.
The fishing areas I mostly visit are the Western Scheldt and Eastern Scheldt, at times I also visit the Europoort ( Port of Rotterdam) . The techniques I'm using are soft bait and hard bait lures , from the shore and offshore with a kayak. The Western Scheldt seems the most challenging area as this a tidal channel with some strong currents . Most of the time you will deal with murky water, especially on the outgoing tide. Incoming tide is a bit clearer when fresh water floods in from the North sea. It's a very busy place where big boats move up and down to the Port of Antwerp. When fishing from the shore , you need to keep a close eye on them , because they create some big waves when passing by. The backwash  can pull you easily into the water if you're not careful enough. The hot spots are mostly piers , vertices , oyster or mussel beds and water exhausts or run offs . That latter can be very productive at times, especially when the past days produced rain . The exhaust are opened at outgoing tide dumping a lot of freshwater and baitfish into the salt water . These are an easy prey for bass and they know it ! Additionally they have plenty of food to choose from, like crab , prawn , herring , sandeel , different kinds of flatfish , lugworms etc. Also important to know ; it's not allowed by law to fish live bait. It is illegal to fish with livebait in both fresh and salt water. The most anglers catching bass on soft baits on the Western Scheldt , some do prefer with lugworms and a float or bottom fishing. In general you do not need a licence to fish saltwater in the Netherlands.
The Eastern Scheldt produces more clearer water because there's no direct link with fresh water and on the North Sea side is a flood barrier . Herewith the current is less strong than the Western Scheldt . This is an advantage to use some hard lures . When the conditions are good , I always try surface lures . For me it's the ultimate way to catch seabass . The visual aspect of this technique gives me some adrenalin boosts ! You have also the chance of catching garfish , mackerel or shad . You'll find them on the same spots where bass lurks ; current seams , piers , rockfills , mussel and oysterbeds , etc. In the daytime it's not easy to catch a specimen bass , because they are very cautious . Especially with settled weather . Your luck may change during stronger winds, around 4-5 Bf from the right direction , mostly from south west . Then you have more chance to catch a big one. Many anglers fishing at dark with softbaits or lugworms or a float . That's also a good time to catch some bigger fish . I'm not so fund to go out at night . Especially from shore where you have to walk on slippery rocks in combination with some razor sharp oysters everywhere . I'm not risking my life nor fishing gear for some bass . If you do go out at night , never go out alone ! You will also notice there's a lot of commercial fisheries on the Eastern Scheldt ; bottomtrawling , lobster traps , mussel farming and trammel nets . So there's much anglingpressure leading to over fishing these days .
The Europoort ( Port of Rotterdam ) is a very good spot for big bass . But you need a local guy to find the good spots . It is not allowed to fish anywhere you want and some spots are pretty dangerous if you don't have the right knowledge .It's also well-known by fly fishermen who chase sea bass, seatrout and shad . There are several spots in the harbour system where you would not expect bass but surely they are there . Here you have also the opportunity to go out on a boat with a guide . Before the season for seabass kicks off you have a great chance to target some nice seatrout , their numbers are growing the latest years, but bear in mind they are protected by law . So it's C&R for this species , but they give you some great sport . For seabass there's unfortunately no limitations here except when you go out on a boat . But there's something rumbling now about the declining cod and bass-stocks . So hopefully the government will take some measures to stop this policy so we could have a nice time on the water in the future ! If you want to visit this delta area , there are many ways and places to spend your holiday ; campingsites , B&B's and some hotels are available for you . The easiest way to move around would be a car , bike or bicycle . So don't hesitate to come to the Netherlands if you want to have a nice time spending !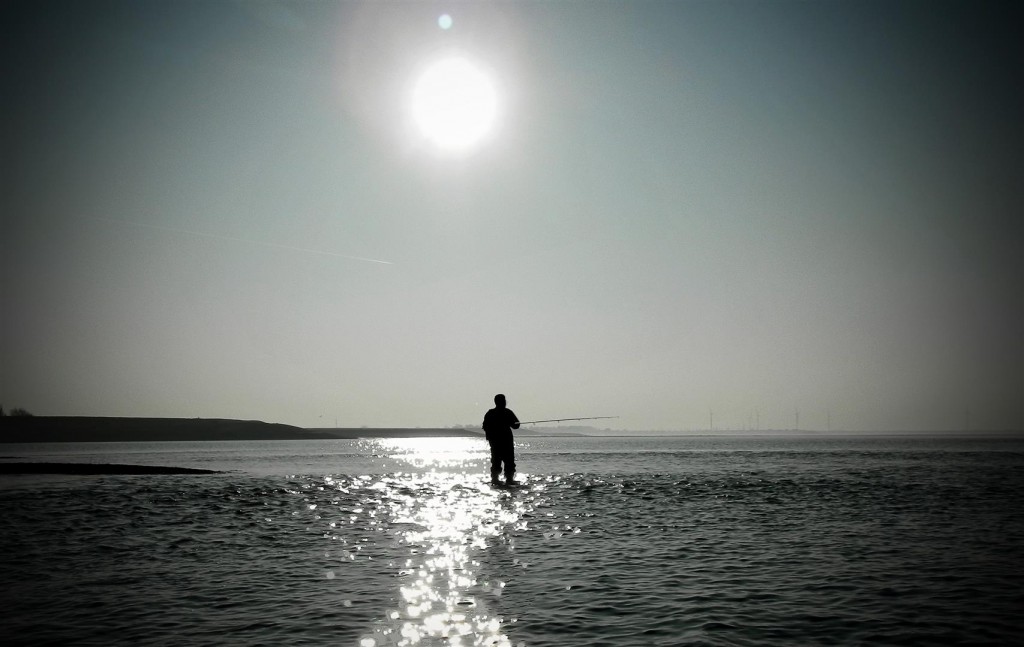 What is different about Dutch Bass fishing and Ireland bass fishing?
First of all , the surrounding or scenery is totally different , the Netherlands is pretty flat , Ireland has cliffs and a rocky coastline . Belgium and the Netherlands has a sandy shore mostly . Here you don't have the big swells like you have in Ireland or UK, or it must be blowing a gale from out of sea . Eastern wind (from land ) doesn't create big waves but the fishing sucks most of the time . Like fishing techniques there's not much difference I believe . I use the same lures here and in Ireland . only in Ireland you have also the chance for pollock, wrasse or cod near the shore . Here you find cod and sometimes pollock together with bass on the many wrecks off our shoreline . These are like an oasis for fish on the sandy bottom of the north sea . They are only attainable by boat , but you have many charterboats to choose from . These will cost around 100 € . Some are specialised in seabass meaning they will anchor some 100 meters from a wreck to not disturb them . Because when you make drifts over the wreck , seabass will retreat into the wreck . For cod it is no problem . Then they throw a pilker (Jig or Pirk)or soft lure upstream , they wait 'till it's reached the bottom and give some 100 meters of line xtra . Then you close your reel and give it a slowly retreat . At that moment you have a loop in your line that starts to stretch in the current and brings your lure to the wreck . On the moment your lure goes up , then they usually attack it . I believe also that our bass is more cautious than the Irish bass . The reason why ? Maybe here is more angling pressure or/and they hear strange noises (humans shouting , boats etc ..) previously cause of the calmer water . We have less slamming waves like you have on the rocky coastline and therefore less noise to cover up the human noise.
The Western Scheldt is the most difficult, cause of its murky water . Fisherman here mostly use soft plastic with a jighead from 7 till 25 grams . They also throw it upstream , wait until it reaches the bottom , close the reel , tightening your line and let the lure bounce carefully over the bottom . Those guys can read the bottom like a book . it takes a lot of practice and many jigs!
On a good day for fishing on my ground, what would be your hope to catch? Big bass of course !! My personal record is now 80 cm and around 10-12 pounds . But you know you're not going  catch many . If i can catch between 10 and 20 bass , I'm very pleased . That's a good day fishing . My record is 40 bass on 1 tide ! Although that was mainly lot's of schoolies with one exception of a 70+ cm bass .
Dutch Tackle:
What are popular rods in Holland? I did a poll on Facebook : Shimano -Lesath, technium, asphire, speedmaster and the famous diaflash EX (softbait rod ) St.Croix legend, avid, seabass. Major Craft – crostage, zaltz. Abu Garcia – Rocksweeper Nano
The most popular reels: Shimano -stradicCI4, twinpower. Daiwa – saltiga , certate , branzino, luvias
My own personal favourites: ABU Rocksweeper Nano  2.40 for kayak and shore.  Rocksweeper 305 softbait and Lucky Craft ESG for hard lures . Average casting weight around 5-45 gr .My Favourite Reels : Shimano stradicCI4 and the twinpower SW . I do have now a tenryu supermix 240 bought but haven't used it yet!
Most anglers in Holland/Belgium fish salt and fresh water. Most of them do , summer bass and winter perch, pike and zander . A few go after seatrout when bass is gone , like me now but I'm still a novice on seatrout.
Dutch Lure Choice:
Favourite hard lures? Favourite soft lures? Hard : Ima skimmer , sasuke and komomo 2 , Lucky Craft gunnish, flash minnow, B-freeze, Megabass vision oneten, dog-x, x-140 , Illex bonnie 128 and watermonitor , Yozuri aile magnet DB
Soft : lunker city sluggo , Sawamura one up shad, megabass x-layer and of course black minnow from Fiiiish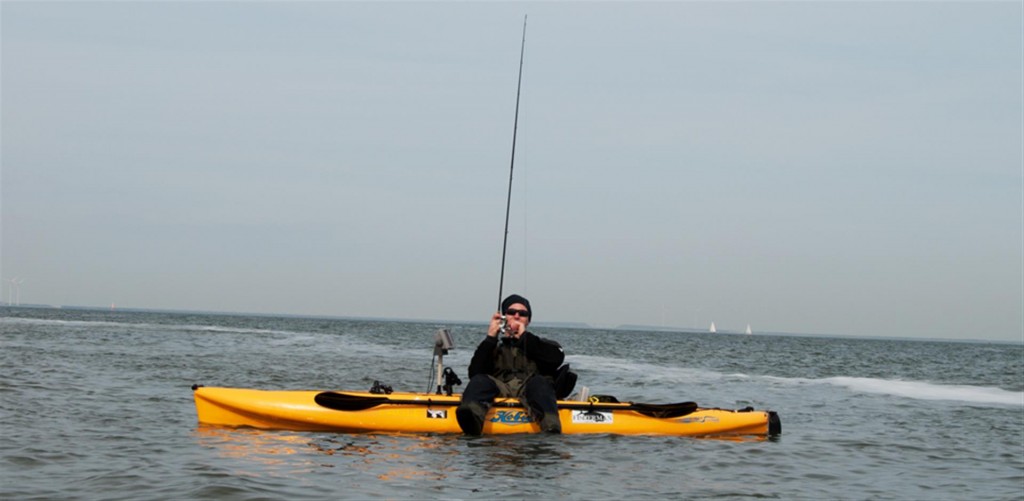 There is a growing Kayak fishing scene!
Kayak fishing is popular. What are the most popular kayaks? I bought my kayak in 2007 . The guy from the store told me I was the 2nd one in Belgium , in Holland there were around 10,15 guys who had one . I think nowadays there are so many more and still growing each year . The most sold brand is by far Hobie mainly due to their mirage drive system, so you can paddle with your feet and your hands free to fish . The outback is the most interesting Hobie kayak . It is a very stable craft and manoeuvrable on the water . At around 30 kilos so you can just lift it by yourself . It has more advantage than a boat ; your much quieter and can reach more shallow water and less expensive ( no fuel) much better for the environment .
There are plenty launch sites  around , some of them you have to pay a small fee . I don't make much use of them , most of the time I start from a small beach or in the corners of waterbreakers . You don't need a permit except for freshwater in Belgium . But there are regulations that effect kayaks , for example : you can't fish in the Europoort because you must have a minimum speed of 6 miles an hour and you must stay out of the channels.
It would be more popular to fish the  Eurooport in boats. If you are visiting the Europort area it would be best to take a guide. Somebody like Bass Express are worth checking out. Check out his web site at http://www.bassexpress.nl/ His name is Lesley Luijer , a guy with a lot of experience his speciality is fishing with artificial lures by boat on a drift or anchor, it depends on the mark . He does al the area of the Europoort.
when bass doesn't bite well, he will change tactics by fishing on cod. He will do anything to please the customer and normally he takes max 2 persons .The boat is a warrior 175 . He does also the nearby wrecks  if the weather allows it .
You pay 150 € for a day . He promotes C&R but if you want to take fish home there are limitations in size , for bass only between 45 and 55 cm , cod min 35mm.
For many years you will find that anglers from Holland have travelled to Ireland to fish. We do to get a different experience. It would be interesting for bass anglers form Ireland to visit Holland to check out our bass fishing. It is different but it is the same!
Steven Bockstal is based in Belgium. He is a passionate bass angler. He has fished for bass in Ireland many times. He can be contacted via his Facebook Page: https://www.facebook.com/steven.bockstal?fref=ts