More and more anglers are taking to the water in order to maximise their chances of catching fish. It doesn't always have to cost the earth and it shouldn't cost a life. Jim Clohessy looks at how easy it is to get it right first time.
A Safe Route To Water
Each year more and more anglers take to the water. The amount of small watercraft gracing our waterways are testament that it is not just sea anglers that are going afloat to get their fix but that freshwater anglers are looking to get onto local lakes to search out some decent catches. Each time I take to the sheltered waters of Cork harbour I am astounded by the amount of small angling boats that are actively fishing and of course the rise in numbers of kayak anglers seems to continue to the verge of being an infestation! Still, it is great to see people taking to the water, better still if they are catching more fish.
Why is there a rush to water? People have varying reasons for the purchase of a craft but most will admit to one thing – In most cases the quality of our angling is not what it once was and therefore shore anglers are now looking to take to the water in order to maintain or to increase catches. Once anglers realise that to get to water is less expensive that they thought then many are prepared to take the plunge and get fishing whether it is by dinghy by person water craft or by charter boat.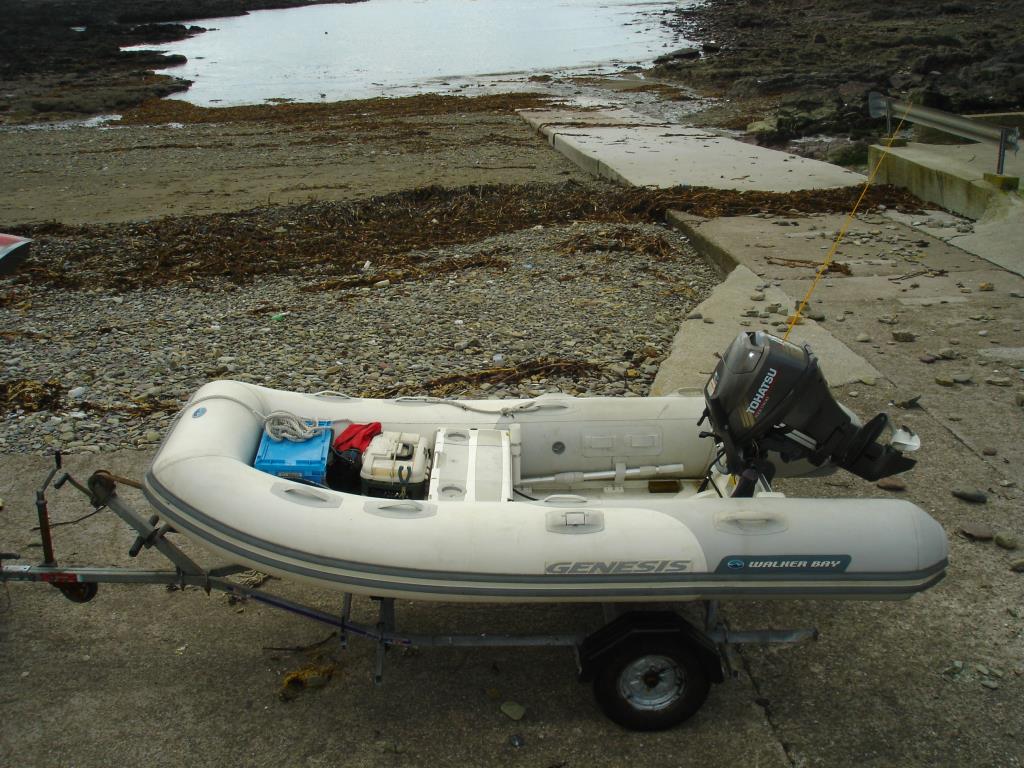 It is important to realise that if "general" boat angling is your choice then by far the easiest and cost effective method of getting to water is the good old charter boat. Charters play an important role in the boat angling world. People who want to dip a toe in the water of boat angling are best served by getting together and organising a few trips with a local charter. Many loose gatherings of fellow anglers become great bands of friends through the intervention of a bit of boat angling. Angling clubs will allow you get to water with more experienced anglers and will allow you to expand your knowledge of tactics and tackle. It can also be the route by which you can make an informed decision as to what the future will hold for you and your boat angling.
The charter skipper will usually be of little benefit to the angler that has his eye fixed close to the shore. There is no doubting the explosion of interest in lure angling from the shore. It can be a highly effective method of catching fish. It is also easy to get involved with. The cost of entry can be kept to a minimum. However you will find that many anglers will look to getting on the water as a means to cover more ground in a session or in the hope of increasing their catches.  Many will go down the route of a little boat and some will succumb to the lure of a kayak. Either way they will get on the water for a fraction of the costs associated with traditional angling dinghies.
Choices, Choices
On the top end of the angling dinghy stakes sits the Warrior range of boats. The craft are renowned for their quality finish and superb performance on the water. The popular 165 will set you back the bones of twenty thousand Euros for a new boat package. You will pick up a decent example second hand for half the new price. Warriors tend to hold their value better than most trailable dinghies. Many anglers anxious to test the whole boat angling thing may not want to spend so much money or may be looking for a craft to suit a specific style of angling. I would have been of the same mindset when I began to investigate the use of a small inflatable boat for some of my fishing. I have always been a fan of inflatable boats. They are great fun and open up many fishing opportunities but like others I was not keen on spending a small fortune on a craft that I may not use that often. My first foray was with a small Avon Rib (Rigid Hull Inflatable Boat) and soon after I invested in an almost new Honwave 3.5m Inflatable. Unfortunately my Honwave was stolen last year and because I use my small craft so often I felt compelled to replace my stolen boat.
Buying a small craft
Done Deal is a great place to start your online search for a boat. After that you can consult "Find a Fishing Boat" or Apollo Duck. There are other sites out there but these are the most popular. A search on any of these sites will reveal a decent number of boats at all times. Obviously there will be more boats appear for sale in the months of April/May as this is the time when owners will get the best price for their boat. I was looking for a RIB around 3.5 to 4.0 meters. I eventually located a Walker Bay Genesis RIB complete with Tohatsu 15Hp fourstroke engine. The owner did not have a trailer but I still had mine from my stolen boat. You can get on the water with a 3.5 – 4.0 meter boat from as little as two thousand Euros. Indeed these craft are an expensive route to water. With inflatables it is important to be sure that they are holding air and that there is not any obvious damage to the hull. Generally you will find that the boat comes with an engine, as a package deal. Make sure that the combination is not underpowered, your average 3.5M RIB or Inflatable will require a 15hp motor to give it a decent turn of speed. A fourstroke engine will be slightly more expensive but will offer benefits over the lifetime of the boat.
A fishing machine
Invariably when you purchase a craft you will have to kit it out properly as a fishing machine and also as a machine capable of getting you to sea and back again in safety. Most small inflatables are used as tenders or runabouts rather than fishing boats so they tend to come with the minimum of equipment. My Walker Bay Genesis was basically the bare boat when I got it.  I am an angler that like and needs my electronics onboard. Much of the time I will do without a GPS but I would hate to be on the water without my sounder. I like Garmin equipment; ease of use is important to me but also I like cutting edge technology. Garmin have achieved both with their ECHO range of fishfinders.  I decided on the tidy sized ECHO 300 for my Rubber Duck. I sourced a simple bracket from a local engineering shop that would let me fit the sounder to the transom of the boat. The Genesis has a nifty storage area under the seat and it is the perfect location for a small 12v battery to power the sounder. I remove this battery after a few trips and charge it. I could rig the engine to charge the battery but I have less wiring around the boat this way. Most of the time I am using this boat in inshore waters and don't always need a GPS so a handheld unit suits my need perfectly. A simple Garmin Etrex does the needful but I can see myself upgrading to one of the new Garmins that has both charts and Ordnance Survey maps on board – that is a plan for another day! The Genesis has a small storage locker in the bow and this holds a 2kg folding anchor and some anchor rope. I do a fair bit of fishing at anchor but even if drift fishing is your thing it is important to have an anchor on board for safety's sake. I fitted some rod holders to the boat. These holders are less about holding the rods when fishing and more about keeping your rods protected while moving so simple tube-type vertical holders are perfect.
Most inflatables come with a set of paddles and the Walker Bay is no different. I would not head to sea without a set of paddles. They will allow you get out of trouble should you have engine problems. I carry a bilge pump, a compass and a handheld VHF radio to complete my safety gear. All these things are necessary and must be budgeted for when you are buying your vessel. My Rubber Duck sits on a small trailer. As with all trailers it is important to check the condition of the wheel bearings periodically. Small trailers tend not to be braked (they are below the legal threshold) and this is one less thing that has to be considered in terms of maintenance.
While kayakers would always recommend that you do not go to sea alone it would be different for the small boater. While I prefer to have company while I am fishing I find some fishing can be satisfying when done alone. Often, and this is the beauty of a small craft that is easy to get to water, I will snatch a few hours fishing in Cork Harbour when there is a break in the weather. Much of the time these trips will be taken alone. The beauty of the little inflatable is that the effort expended in getting to the water and launching is minimal. This is where the inflatable comes into its own. I can launch single handed and I can launch at stages of tide that would have my Warrior 175 high and dry. Usually I will wear a set of breathable waders when launching. It makes things easy when launching and retrieving. Generally the weather conditions are good when you will be afloat so a few layers of clothing and a light waterproof jacket will have you well clothed.
Life jacket Inspection:
To step aboard any watercraft without a lifejacket is utter lunacy. It is also breaking the law to be without a lifejacket while onboard a small craft. While kayakers tend to wear buoyancy aids the most popular Personal Floatation Devices (PFD) or jackets for boat anglers are the type that will inflate from a gas canister when needed either manually or automatically. These jackets are light, easy to wear and unobtrusive. We tend to forget that they need regular checking and maintenance. Last year I was demonstrating the superb features of one of my Parmaris jackets when the canister fell out on the deck. The canister had loosened enough to fall out of its holder. Even now it gives me a shiver to think of what could have happened if I needed my jacket!
I made it my business to track down the fellows from the RNLI and to get their advice on lifejacket checking.
While speaking with the RNLI safety officer he was saying how many people were not too impressed at having to replace any part of the mechanism! If it was a piece of expensive fishing gear we would all have two of them! So really you have to bite the bullet and keep your lifejacket in tip top condition. I carry my lifejacket around in the boot of my car. No matter where I am I would prefer to be wearing my own lifejacket than taking the chance on a jacket that has not been checked in years.
On the water
You will be pleasantly surprised when you hit the water in your small craft. Obviously you must be in tune with the weather forecast and it will help if you have some buddies to rely on for some help if you are new to the game. If bass angling is your thing you will find yourself fishing more in the early hours of the morning and late into dusk or darkness in the evening. The beauty of fishing at this time is that you will get the best out of the weather conditions during the summer. The usual rules apply when you do strike the water: Always let somebody know that you are afloat and make sure you tell that person what time you intend to come back off the water. If you decide to "give it another hour" especially when it is getting dark, make sure that you phone your shore contact and tell them your plans. Do not leave the shore bound people guessing as to your whereabouts.
Getting out and about on the water brings benefits. I have increased my bass catches. I can fish in areas that I would not be inclined to take my Warrior 175. In short, my small boat has opened up lots of opportunities and is a revelation in angling terms. Once done with safety in mind this style of boating and angling is accessible to all.