TopFisher.eu brings you another selection of gear. Most is new to market but some is just decent gear that is worth taking fishing this season.
Gear is just too expensive to be making making mistakes! Here is a select of some of the gear that has been tried and tested over recent times and some that is new to market.
Luxor BL FV 2500 SW
That is some mouthful of a name, the marketeers must have been dozing that day! This is a salt water specification fixed spool reel from the Pezon et Michel stable. It is a silky smooth operator. I have had one for over twelve months now and it is like it just came out of the shop. I have never had reason to take off the spool! It comes with a pair of spools the spare one is plastic while the main aluminium spool is a shallow spool designed for braid users. The reel boasts stainless bearings and shaft. It is quite attractive finished in a pearl/white finish.
Expect to pay around €100 from Dennett Dealers like www.henrystackleshop.com . Continental readers will find them online. UK customers could  check www.fishonlures.co.uk

Mullion  Compact 150 Lifejacket
If you are thinking of replacing or renewing you lifejackets this season then you really need to check out the latest offering from Irish based lifejacket manufacturer Mullion.
The Compact 150 is the smallest lifejacket available and maintains a conventional sized bladder. It features a "service window" to check that all is OK. We will have a full review next month…
In the meantime check these out at dealers such as CH Marine. Expect to pay +€100
Check out the safety article here: http://www.topfisher.eu/do-not-be-a-statistic-this-summer/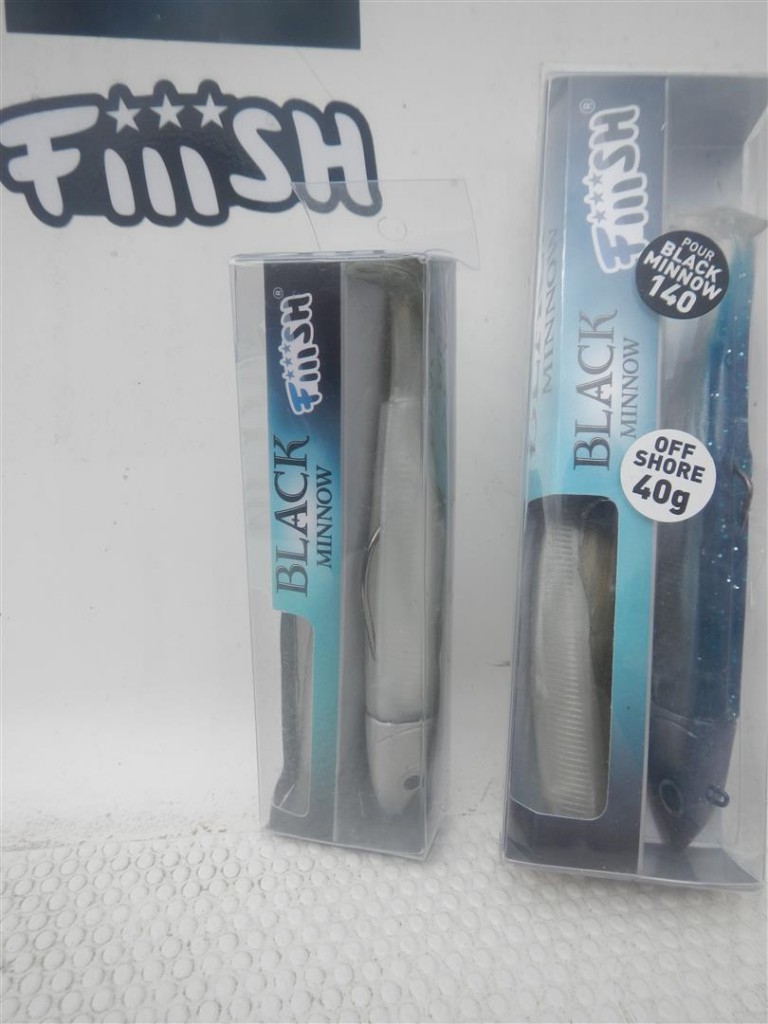 Fiiish Black Minnow
You may have a varied armoury for catching bass. You may feel that you have all the lures you need. You may feel that much of what has been written about is hype.
Jim has been fishing with Black Minnows since its launch in 2011. Is it the best soft lure for bass? It probably is not! Would I like to head out for a session and not have a few in my box? No I would not.
Buy yourself a couple – get a 12g 120mm and 25g 120mm. If you are confronted with a vast array of new colours and cannot make up your mind – go for the original Khaki/Green and or the Blue/Silver.  These are the ones I fish with and have had most success with.
There really are loads of online dealers and you local tackle shop will surely have them at this stage.
Surecatch 7″ Professional Fillet Knife
Jim keeps one of these aboard at all times. "It has a lovely handle and the blade holds an edge all day. It does not command the price of the "fancy" makes but it is a high quality item".
You will find these in good tackle shops and Online.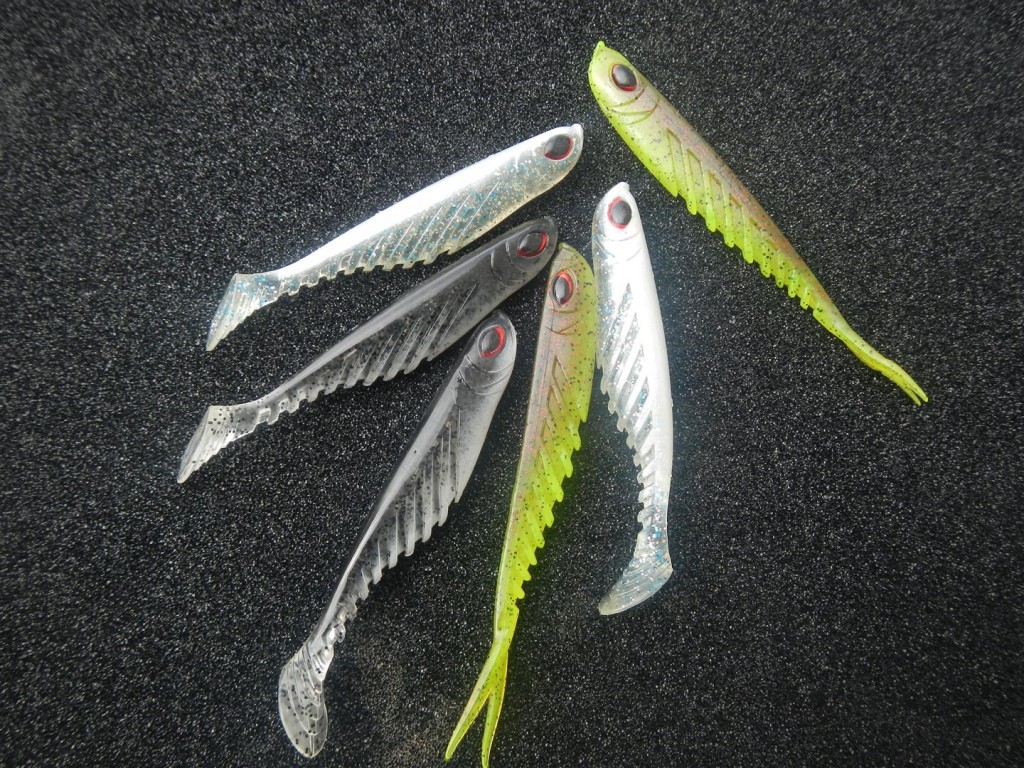 Berkley Powerbait Range.
Your tackle box needs some Powerbait. When you want an effective lure that will catch bass, pollack, cod and just about any other predator the Powerbait Range does the needful. The Ripple Shad and the Ripple Minnow are two definite bass catchers in 110mm.
The best thing about the Power Bait Range is that they do not cost the earth. The Berkley France site shows the range off the best: http://www.berkley-fishing.fr/catalogue/appats-leurres,885/leurres-souples,886/powerbait,890/catalog,1.html
 Surecatch Flurocarbon
These 50m spools of flourocarbon come in various breaking strains. Jim has been using this line for tippet/shock leader on all his lure rods for the last three years – "To put it this way, I don't even think about my flourocarbon, because I know it is good and it works well". Worthy Praise indeed.
You'll get Surecatch Flouro from any Dennett Dealer.

Suffix 832 Braid
Sufix 832 Advanced Superline® is the strongest, most durable small diameter braid on the market. R8 Precision Braiding and fiber technology provides superior strength, roundness and line consistency. Patent-pending construction of 8 fibers (7 Dyneema® plus 1 GORE® Performance Fiber) and 32 weaves (pics) per inch. GORE® Performance Fibers improve abrasion resistance, increase casting distance & accuracy and reduce line vibration. Dyneema® fibers provide high strength & sensitivity, hydrophobic water-repellent protection and small diameter.
Jim has been using 832 on one of his heavier lure setups – "It just works! It casts well. I have it spooled on a Surecatch Unity 45. These reels are fairly bombproof with braid but the 832 has been faultless in the cast and in all round performance".

Illex Nitro Range
Most lure anglers would be familiar with the more expensive Illex Lures such as the I-Shad and the Ammonite Shad. Anglers are also familiar with the famous Nitro Shad. Above are pictures some of the other lures in the Nitro stable – The Nitro Spring, The Nitro Jerk, Nitro Jerk Finesse, Nitro Jerk Finesse Slim.
One thing about these lures it that they will all catch bass and are proven and tested in our waters. Rigged with standard or articulated jig heads they will also catch wrasse and pollack as well as cod and any predator that swims. The beauty of these lures is that they are very well priced. Anglers will not mind the inevitable losses when fishing lures in tough place.
Available from your local Illex Dealer and also competitive offers online.

Braid Scissors
These orange handled braid scissors appear to be somewhat generic and are available from various different manufacturers. These ones are "Stillwater" brand. "I have had a couple of pairs on the go with two years. They need a regular spray of lubricant as they can tend to seize in the box over time. Other than that they are well worth a purchase and are a necessity in any lure anglers tackle box.
Available in most good tackle shops at under €5.00
Do you have items you would like featured in this section? Have you some item of tackle you would like to highlight as being worth buying? Whether you are an angler a retailer or a manufacturer you can submit your piece and pictures to editor@topfisher.eu