We present another few items - Gear that has either been tested and got the seal of approval or gear that is just new to market and worth checking out....

You can click on any image to enlarge….
Delalande Shad Kits
French soft lure company Delalande are becoming a popular purchase for many lure anglers. While most would be familiar with the Swat Shad, Shadka and Mister, their lure kits are worth investigating. I have been using the kit above for pollack and cod.
You can check out the complete range: http://delalande-peche.com/kits
There are good deals to be done at: www.pecheur.com
Berkley Ripple Minnow
The ripple minnow is a proven catcher of any predator that swims! I particularly like them as a bass catcher. They are also superb in deeper water and in larger sizes to tempt cod, pollack and ling.
Apart from coming in packs in their own right they also come as part of some of the excellent kits from Berkely. The best thing about these is that they do not cost the earth but will do the business.
http://www.pecheur.com/en/ie/buy-kit-soft-lure-berkley-powerbait-vertical-finesse-pro-pack-63534.html
Bricoleurre – Articulated jig head Hook
It can be quite difficult to get the correct pattern of hook for your articulated jig heads. Briculeurre have addressed the subject with this beautiful pattern. The shank is short and the gape is wide allowing you to present plastics almost weedless.
http://www.bricoleurre.com/index.php?main_page=index&cPath=28_39_55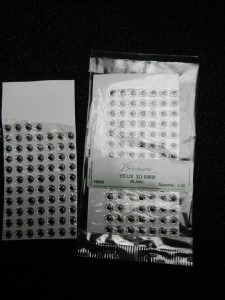 Bricoleurre Lure Eyes
Self explanatory really. If you are making your own jig heads you will recognise benefit of fitting eyes to your heads.
Bircoleurre have a huge range of types and sizes – from 3mm to 20mm – and in a range of colours: http://www.bricoleurre.com/index.php?main_page=index&cPath=27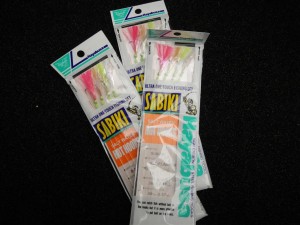 Hayabusa B-507E Sabiki Rig
Without doubt the best bait collector out there. Not a new rig by any means but certainly the best! We love the fact that Haybusa will go on and on. The quality of the hooks is great and the line used is strong. Of course the fact that these will come out of the wrapper without tangling makes them great too!
You'll find these anywhere where Dennetts supply. Of course that means on line too.
Glue – Super glue & Activator
While many of you who are overseas will not be able to locate this particular glue kit you will find that many of the kitchen manufacturers will have something similar in stock. This particular kit from In-House is superb value. The bottle cap has the all important metal insert to stop the nozzle blocking up. You dont have to use the activator but it certainly makes the whole process faster.
Note: Super glues have a shelf life and usually degrade within six months once opened.
Most DIY shops will stock – In House have locations around the country : http://www.in-house.ie/
Yum Ferocity2 –  Dinger!
Want a lure that will catch all predatory species including bass? Look no further than the YUM F2 Dinger. The beauty of these lures is their affordability. Yiu will find your self putting lure into places you normally would not – why? Because they are well priced of course! I even keep the bits as they get rough, cut them up short and use them for wrasse!
Available from any Tronixpro outlets
http://www.tronixpro.com/catalogue/results.aspx?search=yum