With Christmas approaching you might like to see what's out there for the new season! Jim was at a trade show!


Tackle Trade, Trade Show.
Fin Raiders represent some of the most successful tackle companies in the business. Recently Jim attended their Dublin Trade show to see what was on offer from the companies they represent.
When the weather is cold and windy and fishing opportunities are few it is great to head to a trade show. It is like a little fishing fix and in the depths of winter it is a great way to get some optimism for the new year going. So we braved icy roads and headed for Dublin and the first trade show of the season.
The Fin Raiders show is a slightly different show in that they represent a few different companies so each company tends to send their people to show off the wares and also to get some pre-season orders for the year ahead.
Walking in to the function room in the Green Isle Hotel you would be forgiven for thinking you were in an Angling Show proper.– The room is packed with stands and displays of tackle. There is a buzz as tackle dealers from all around the island are chatting, discussing and ordering tackle.
My first stop is at TronixPro. – Now here is a company that means business! In recent years they have come from being a small outfit to being a major player in the tackle trade. Once famed for good value terminal tackle Tronixpro now have an offering for every area of angling from clothing and equipment to rod to hook and line Tronix have something for every angler.
As a company, Tronix's product listing has grown hugely over recent years. It would take a long time to go through all new items on offer. We'll deal with some things that caught our eye!
Folding Bucket.
Certainly boat anglers can never have enough buckets. Storage on board is always the impediment to carrying more buckets. It is always the way when fishing that when you need a bucket to wash the gunwales or your hands is just happens that every one is full! Similarly when you are fishing from the shore a bucket is luxury that many don't want to be lugging across the beach.
The Folding bucket is a nifty idea. It comes with a line so you can throw it into the water or lower it over a pier wall or high boat and it even is weighted on one side to ensure you fill it with ease. It folds nearly flat so it will store easily on top of a tackle box or boat box.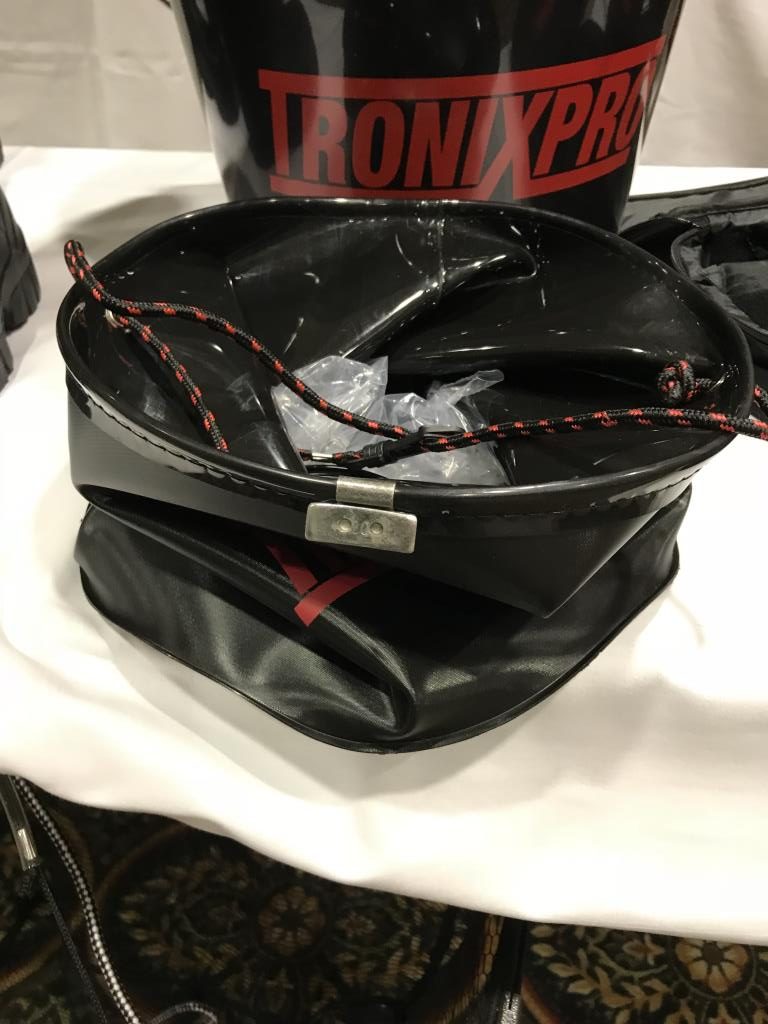 End Tackle
Tronix are really well known for their well priced terminal bits, swivels, beads and suchlike. They have a vast range of pre-tied bait rigs for boat and shore and a large range of sabikis and suchlike for the serious boat angler or the mackerel basher alike. We were taken by the realism of the shrimp rigs and the pre-mounted spinner bladed are a gift for the boat angler who like to tie their own rigs. Really the range is massive!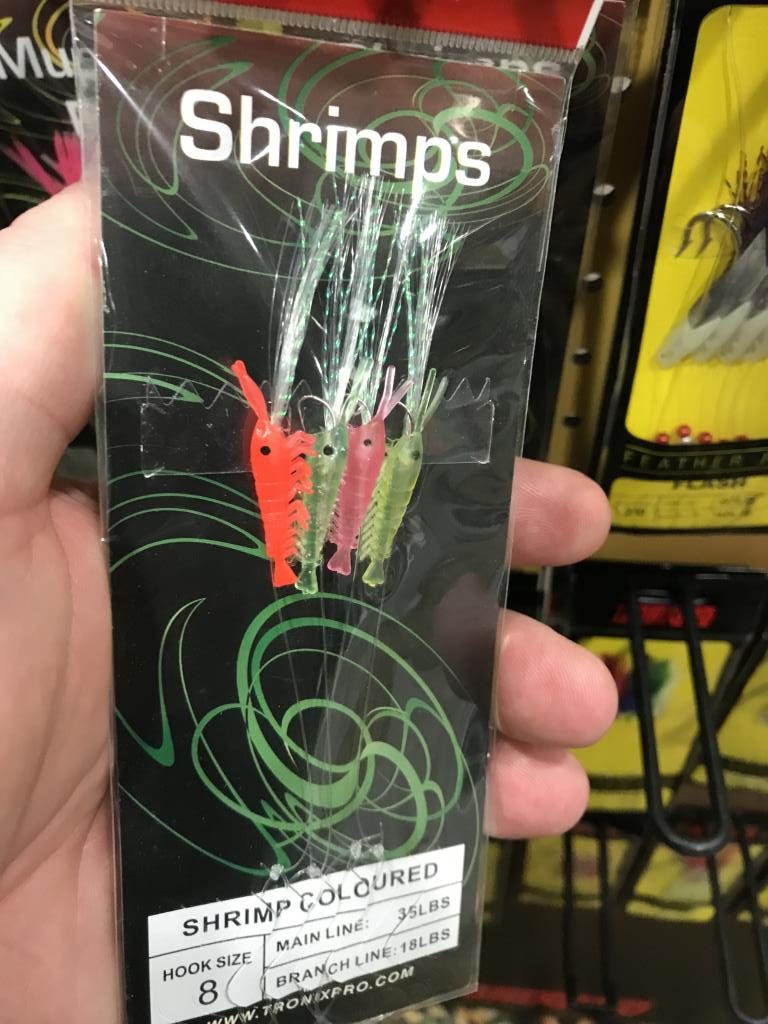 Star Storage
Rod wraps are a very underestimate piece of equipment. Apart from the obvious protection they offer your bundle of rods they double up to help secure rods to the rail of a pier or charter boat. They have many uses and are well worth having a few packs in use. Similarly the neoprene rod wraps are perfect for protecting your favourite rods in transport.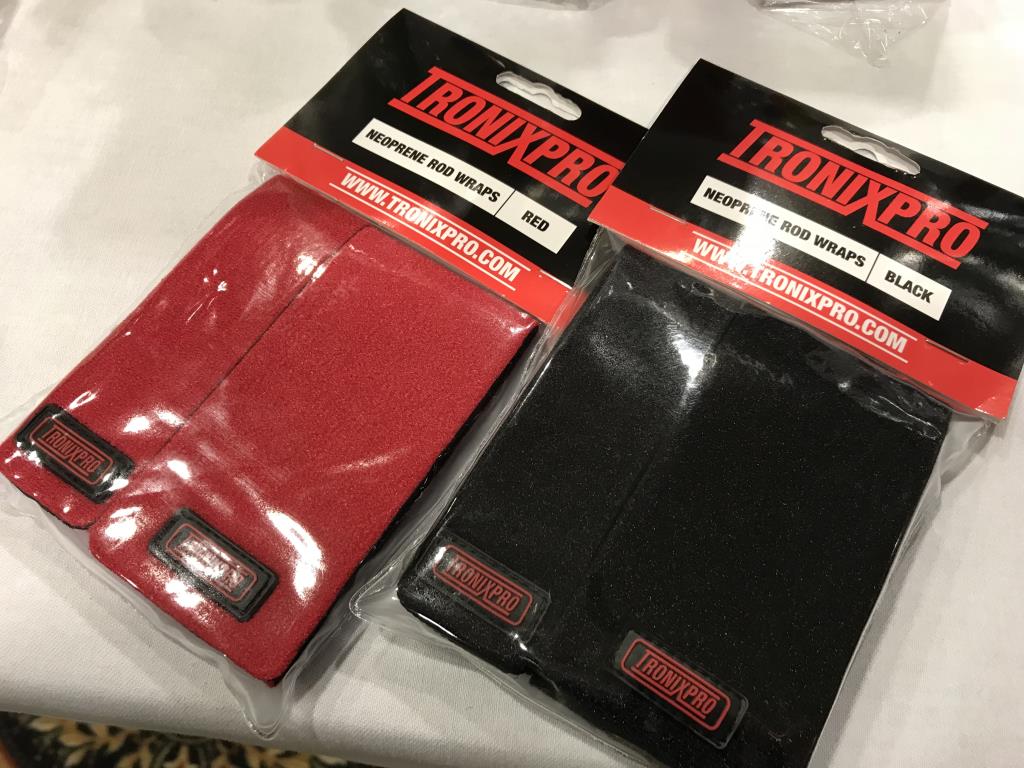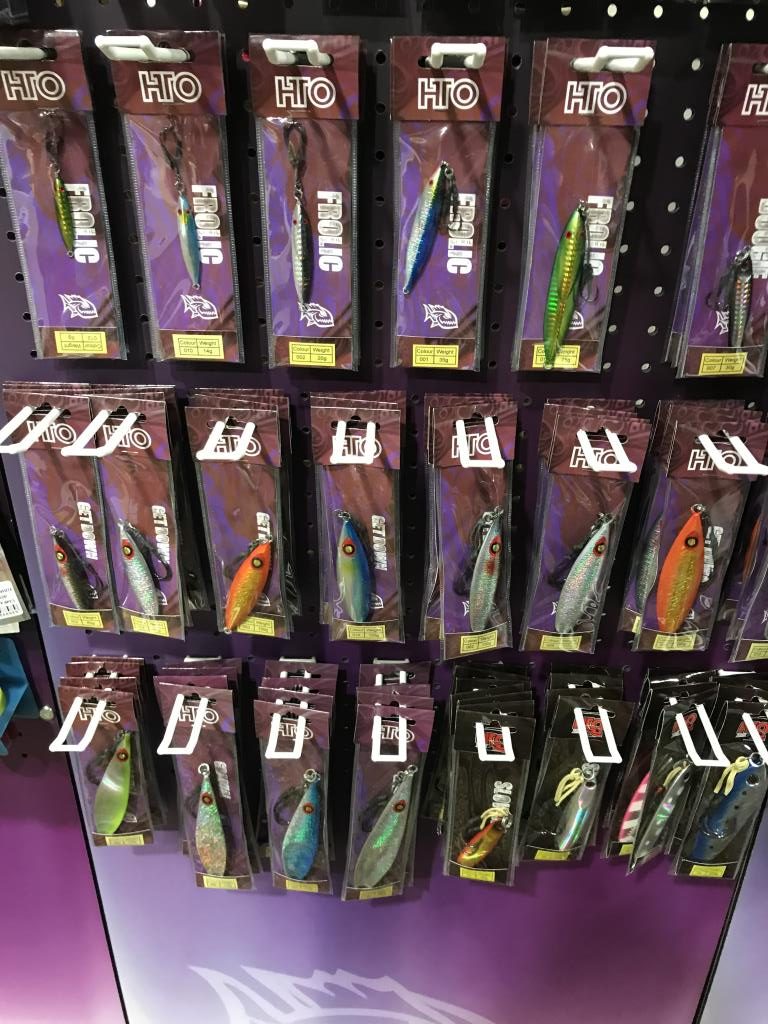 Lures
In recent years Tronix have dived head first into the blooming lure angling market. The have some fine offerings from the Artic Eel (Launched a few years back) to the Mighty Minnow which is a simple 28g jig head and body combination that will catch bass!  They come in various colour combinations and are perfect bodies for the angler who make their own jig heads.
The Reel D Eel is a similar offering that resembles the popular savagegear Sandeel and it comes in a range of weights and colours.
The HTO Sea Minnow is a very handy lure for bass, pollack, cod. It is one of the "generic" soft lures on offer from many companies but Tronix's offering will usually be pitched at an attractive price point
With their HTO Brand Tronix have launched headlong into the craze for jig fishing. We Europeans are really behind the curve in this style fishing but Tronix will bring any angler up to date whatever they preferred method. They have slow jigs and speed jigs to suit the shore and boat angler alike. The finish on these jigs has to be seen to be appreciated in full.
Tronix still represent companies like Hart in the UK and Ireland and some of their range of rods and lures were presented. The Manolo and Co lure from hart is like a take on the American Helicopter rig or the Strike pro hard lures that are patterned to represent a small shoal of bait fish.
Rods
Tronix had a full selection of shore rods on display and theer seemed to be a crowd around the display racks at all times. There would be little point of me discussing these though I did give them a wobble. I must say, the lightness of the modern rods compared to the rods I used use is incredible.
My attention was immediately taken towards the lure rods display. HTO have a couple of ranges worth mentioning. The Lure Game range has a fair range of rods from 5-25g including a 10-50g 9' 6" . They are a nicely finished rod. I have always found them to be a little too flexible in action for my style fishing. The HTO Nebula range shows what Tronix have learned in recent times about the demands of a fas action yet flexible rod in the true French sense. The HTO Nebula would appear to be the star of the show from a quality and price point. They retail from €130 to €159. I have not fished with one in anger but certainly it looks like a rod that is worth a punt as its price point is fair for what should be a great performer.
The people that bring us Rovex and Jarvis Walker were at the show.
They were less about rods, although they did have a fine slow jigging combination on offer, and were more about the lures, line and reels. The Tsunami Range of lures is always worth a look. They tend to offer great value in lures. Some tend to be copies of popular lures on the market.  But there are a lot of different styles and weights in the range.  They have a large range of jig heads. You might find that you have to search the Jarvis Walker site to see the range and you may have to ask your local shop to order in some lures for you. One thing is for sure they are worth the money.
I was particularly attracted to the displayed lures from Chase Baits. Chaose Baits are an American company that offer a full range of soft lures including some very life-like lures. Their crab lures need to be held to appreciate the construction. I have not used crab imitations for bass or cod fishing so it would be an interesting challenge to see the level of success possible. I was particularly taken by their Dagger Bait. It almost resembles a tadpole in its shape but I can see it being worth a chuck for bass in the new year.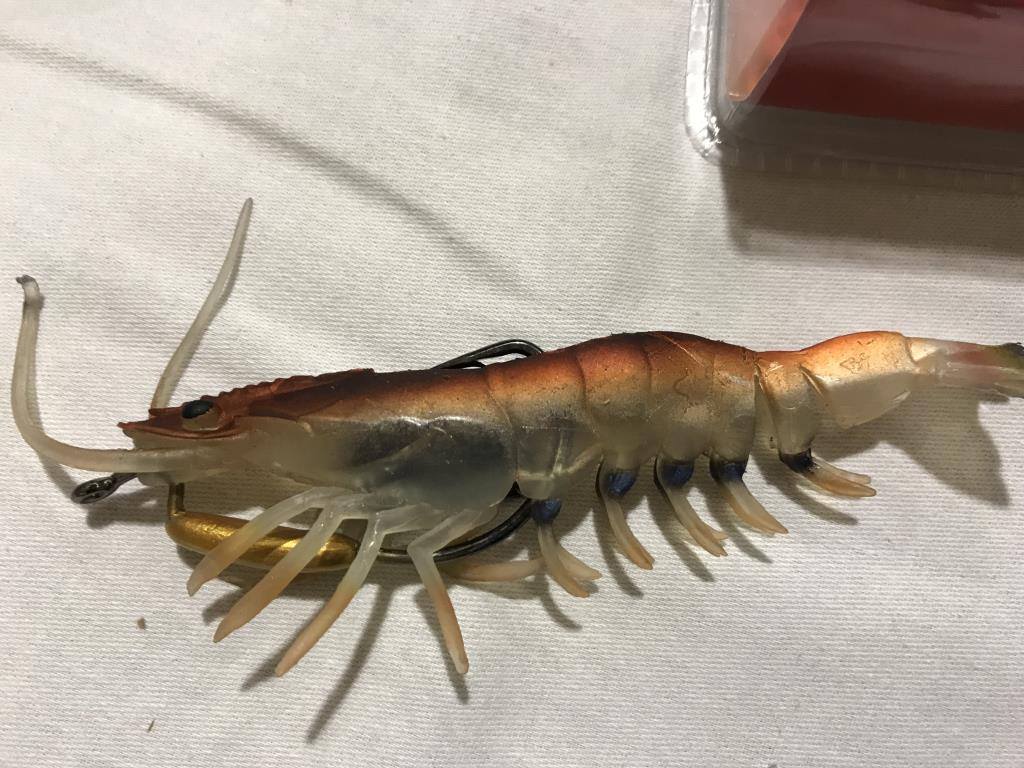 Reels
It is hard to know what the Poseidon Reels future will be in our market. It seems to be very difficult to establish a brand in the UK & IRL. People tend to opt for the incumbent favourite rather than the shiny new comer. These reels are new to us but have been around the US and the East for many years. I know little about the company but the reels certainly look and feel the part. Reviews will start to appear from this side of the world and maybe these reels will become the new force in boat angling?
Westin
My exposure to Danish company Westin has been limited to the big lures that are used in Norway and the like for cod and halibut like the Flat Matt and the Big Bob. I was delighted to get a look at their complete range. I can sense an assault on the Irish market with some lovely lures and rods that will suit both sea and fresh water angling.
They had a large range of accessories like bags and clothing on display to but of course this is a very crowded marketplace already.
But certainly the Shandy Andy and the Teez lures that I have seen and used are well worth checking out.
They had some wonderful rods on display. Many were heavy affairs designed to cope with Nordic beasties but they had some really interesting spinning rods that look like they could feature strongly next season. The rods on the whole appear to be well priced for quality fittings. Watch out for the W3 PB rods in 5-30 and 15-50 ratings.