We get to grips with some of the many new offerings that will be in a tackle shop near you soon!
New to Market for 2016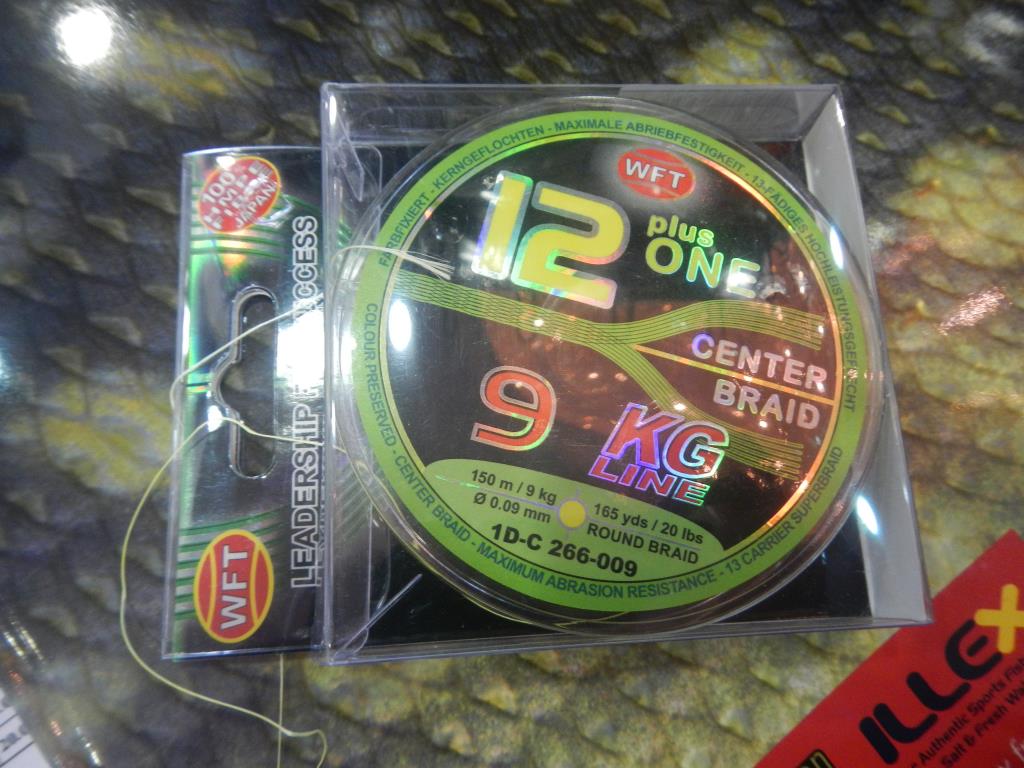 WFT 12+ One
Braid has been constantly evolving over recent years. Manufacturing techniques are constantly being refined and the result is thinner and thinner braids. First we had 4-strand. Then 8-strand became the weapon of choice for anglers wanting the smallest diameter line possible. It looks like 2016 will be the year of the 12-strand braid. Many of the major players have product in the pipeline or have already launched. WFT (World Fishing Tackle) are no strangers to innovation and their take on 12-strand braid is actually a 13-strand! 12-strands wrapped around a central core giving a braid that has a round profile rather than flat.
We are promised a braid that is supple, thin, abrasion resistant – superior in all areas to the braid we normally use. The 9kg example I have seen has a stated diameter of 0.09mm. My usual braid comes in at 0.13mm for 9kg  – That is 30% thinner!
The down side? Be prepared to pay for innovation and quality! – Check out Dennett Dealers!
Gliss
It looks like there is a "new" version of Gliss line coming.  Some anglers had mixed reviews of this line last year with some concern of it fraying easily. I must say my experience with the line was largely positive. We haven't had some in our hands to test yet but you can be assured we will give it a whirl.
The "New and Improved Gliss" will be available from Dennett Dealers.
Gunki PLUGIN S & C
We had a waggle off the new Gunki Plugin range of lure rods recently and we were impressed. These are rods that will slot into the mid to lo-range in terms of priceing but certainly not in terms of quality. The rods are finished to perfection and there is a choice of spinning and casting models. There are one piece in the range in the form of an S210-H Mono.
Gunki of course anre coming from the Illex/Pezon sable so you really are looking at well thought out rods and well finished for smaller money than the other members of the Group.
Expect these in and around €70.00
Illex Nitro Sprat
Not exactly new, they were in the 2015 catalogue. We gave them a good whirl last summer. These are Illex's answer to the very successful Black Minnow. There were a few things wrong last year – Firstly the French Market soaked up what lures that were available so Ireland saw little or none. Secondly the weight that were available last year were more suited to the shore angler rather than the vertical fishing boat angler.
The lure is actually over engineered! The head is epoxy covered. Is this to make the head bigger for the weight? The weedless hook is well attached to the body and sits well on the back of the lure almost pointing downwards. The action left me a little cold. You would think a BM competitor would mimic the panicy action of the BM. Not the Nitro Sprat. Will it catch fish? Of course it will. Will it become a classic? Not if you are going to be more expensive than the competition that is the market leader!
We will have to see how the heavier 28g and 35g units, new for 2016,  fare out….if they are available!
Costing anywhere between €7 and €11
Gunki G'Bump Shads (Boxed Loose)
Now if Illex seem to have dropped the ball on value saltwater soft lures then Gunki have taken up the running… Even though they are aimed at the freshwater market Gunki may bring a smile to the saltwater anglers' lips!
The range of G'Bump shads come in a range of colours and a range of sizes from 8cm to 20cm – enough to whet the appetite of any angler approaching the soft lure section. It should be possible to mix and match a set of shads for a session in varying colours and sizes. Most interesting. It remains to be seen how many tackle shops will be prepared to give these a fair chance an stock a few different boxes.
Price will vary according to size but will start around €1.
Surecatch Stinger Jigs
Not exactly a new item but it looks like 2016 is going to be a great year for metals. Dennett have stocked up on the excellent Stinger jigs from Surecatch. There are 5 different patterns in the 150g range. Perfect for all but the deepest applications. (There are also 250g Power jigs for the deep water junkies).
We have fished with these for a good many years. The first time around we really did not have the rods to do them justice – This time it's different.
Available from Dennett Dealers.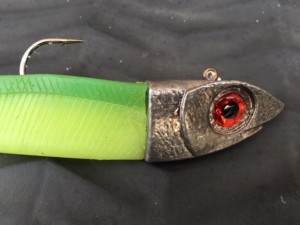 Bricoleurre V2 Jig Head 120g & 150g
Again this is not a new item but it is the first time that we have used this cracking mould from Bricoleurre in France.
The V2 Shad is a magnificent design of jig head that suits so many bodies. We have been using the V2 as our head of choice for 2015 and even more so in 2016.
We have been making the complete range for use over the winter including the biggest of the range the 150g – Hopefully combined with thin braid will be enough to be used on the wrecks during 2016
Check out www.bricoleurre.com