A fabulous choice for a value lure rod for 2021 - Think Bocca Nera

Bocca Nera – Value, Performance & Quality – Kali Kunnan get it right!
We don't tend to do immediate rod reviews. It has always been this way. No, instead we like to test out a rod and use it before putting pen to paper and giving our opinion.
The Bocca Nera is a light lure rod from Spanish giant Kali Kunnan. At a Dennett Outdoor trade show I asked to "borrow" a Bocca Nera to give it a whirl. It was my first time seeing rods from this manufacturer and on first feeling the rod I was really impressed with the "feel" and was especially so with the quality of the finish and the fixtures and fittings.
The first rod I got my mitts on was the 220 which is 2.2M, a tad over 7 feet long. It carries a rating of 8-20g so allowing for the vagaries of ratings, this is going to be more of a finesse style rod rather than an all-round bruiser. I tried it out and to be honest I was left wondering how such a rod is not more well known. It has Fuji fittings and is finished in a snazzy red and sliver finish. More importantly it comes in under €70!! I used it flicking light plastics about the place for bass. I used it vertically in tide with 20-40g of jig head and it was perfect. There's a reserve of power down the blank but it will bend well!
Maybe I got it wrong…. I sent it onwards to Andy Davies, bass angler supreme, to see what he thought of the Bocca Nera. He was blown away! He did think that the 2.7M 14-42g might be better suited to many shore based anglers. He bought one. He gave the rod to a buddy to try, he bought one. I gave mine to another buddy to try, he bought one – You can see a pattern forming here?
One of my buddies fishing on my boat was using the 2.7M, a tad under 9 feet. I initially wondered if it would be a bit long for boat work – not a bit of it. It handled 60g jig heads without a bother. You can see from the pictures at the top of the page that it has a lovely progressive bend and retains a lovely "feel" when you are bouncing soft lures or metals.
So there you have it. The review is short and sweet really. Bocca Nera is a real value rod worth a punt for any angler that wants to add a nice light lure rod to their armoury. If you are thinking about a nice light lure rod for the season ahead well this one is not going to hurt the bank too much but you'll be amazed at the quality. I have given mine a decent testing. I have been into good fish, I have been stuck in the bottom and put decent pressure on the blank. It has come out the other side without a hitch.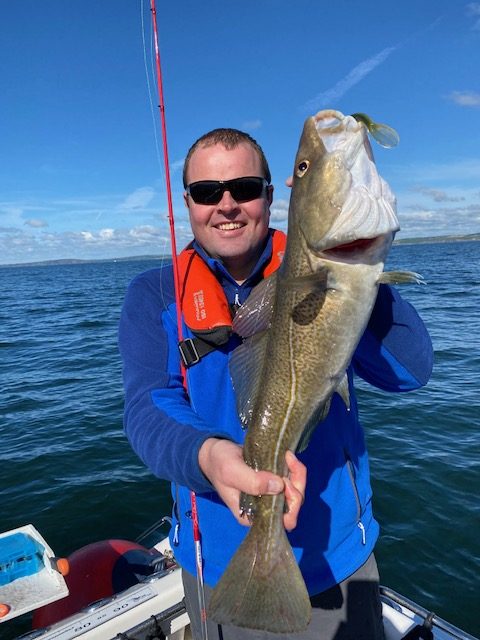 You'll get the Bocca Nera from your local dealer that deals with Dennett Outdoors or online.
You can see the blurb here: https://www.dennettoutdoor.com/Catalogue/Rods/Pier-and-Sea/Kali-Kunnan-Boccanera-Salt-Spin-AC-BOCCA